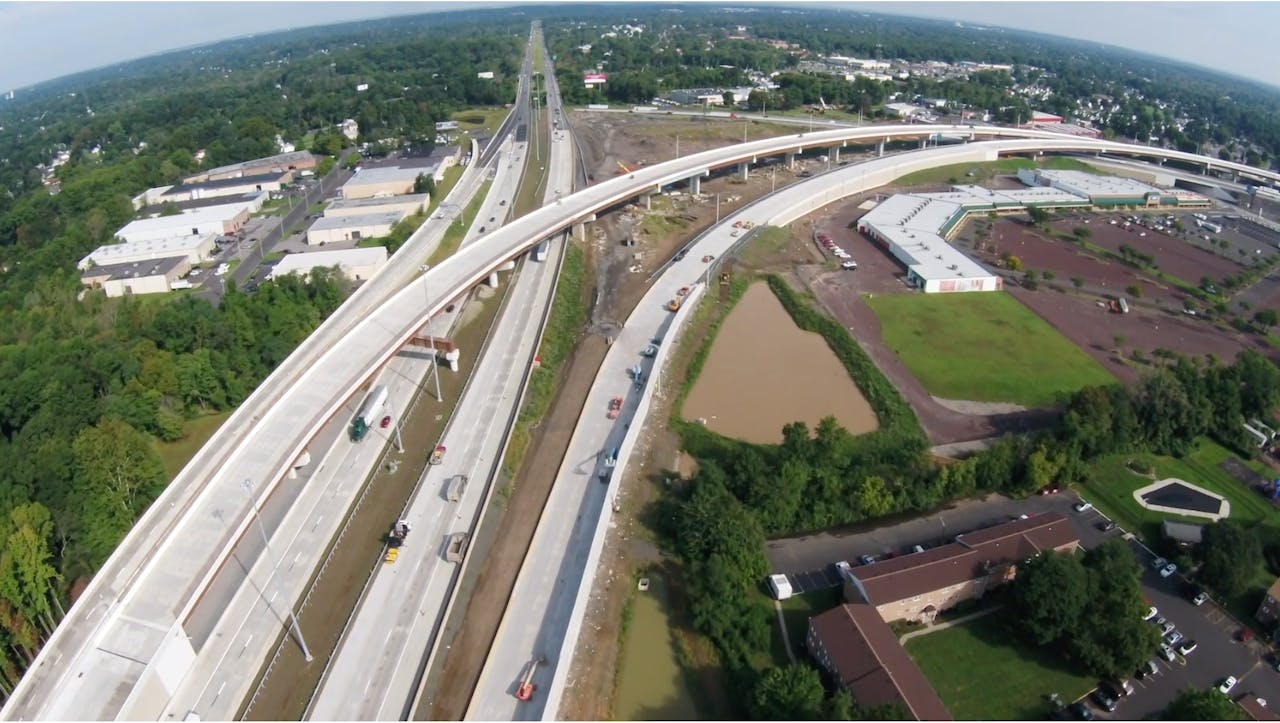 Urban Engineers, the construction manager for the $450 million Pennsylvania Turnpike/Interstate 95 Interchange project, along with officials from the Pennsylvania Turnpike, the Pennsylvania Department of Transportation (PennDOT), the Federal Highway Administration, and ground transportation agencies from neighboring states, gathered for a ribbon-cutting ceremony marking the completion of Phase 1 of the long-awaited interchange in Bucks County. It opened to traffic September 24.
"Motorists who travel in this area have been waiting a long time to realize the benefits this direct link will bring, namely reduced congestion on Bucks County roadways and improved traffic flow in the Philadelphia region and the entire east coast," said Pennsylvania Turnpike Commissioner Pat Deon in a press release. "At 1,900 miles, I-95 is the longest north-south artery in the United States and our most-used highway regarding vehicle miles traveled."
The interchange is made up of two connecting structures: One, 2,300 feet long that carries northbound I-95 traffic onto the eastbound Pennsylvania Turnpike (I-276), and one 2,500 feet long that carries westbound I-276 traffic onto southbound I-95.
"This new interchange — along with the re-designation of parts of the New Jersey and Pennsylvania turnpikes — will finally complete I-95's missing link, making the interstate continuous from Florida to Maine," said PA Turnpike CEO Mark Compton in the press release. "Its opening also marks the completion of the original Interstate system decades after the law that created the network of highways was signed in 1956."
The project included the following construction elements:
Three miles of new interchange flyovers and Interchange ramp reconstruction;
14 new bridges in addition to the multi-span flyover structures;
17 new interstate lane miles;
Environmental features — 3 acres of wetland mitigation; a half-mile of stream mitigation, new Red-bellied Turtle habitat enhancements in Silver Lake Park and along the Mill Creek Corridor, 31 stormwater management basins, and three rain gardens;
A high-speed, westbound cashless-tolling location;
A conventional mainline toll plaza at Neshaminy Falls with Express E-ZPass lanes;
Advanced Intelligent Transportation display and communication systems to notify motorists of conditions during construction, as well as a work-zone traveler information and incident notification system;
More than 2.5 miles of retaining walls;
More than 3 miles of new sound barriers; and
Roadway, traffic-signal and multimodal improvements to adjacent roadways essential to the project.
Stage 2 of the project, which will include the six remaining interchange movements between Interstates 276, 95 and 295, and Stage 3, a future Delaware River Bridge project, are dependent on funding.