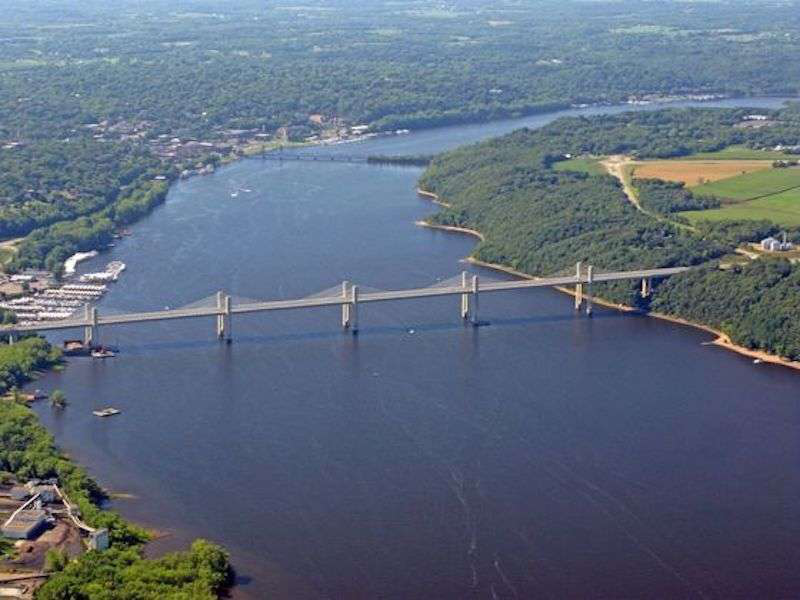 The $646 million St. Croix Crossing project officially opened during a ribbon cutting ceremony yesterday featuring Minnesota Gov. Mark Dayton and Wisconsin Gov. Scott Walker. It has been under construction since 2012.
The project, which spans the St. Croix River connecting Oak Park Heights, Minnesota, and St. Joseph, Wisconsin, is a 5,000-foot extradosed bridge that features four lanes of traffic in each direction.
"This new bridge reinforces the strong economic ties between Minnesota and Wisconsin, better connecting people with jobs, families, and better opportunities on both sides of the river," says Dayton. "I thank the strong bipartisan leadership from both states that has made this project a success, supporting jobs for more than 3,000 people from Minnesota and Wisconsin over its four-year construction."
"This outstanding bridge I call 'Cooperation' is the product of a lot of hard work and dedication by those who built it, and it is the product of hard work and bipartisan cooperation between officials in our two states," says Walker. "The St. Croix Crossing greatly eases traffic congestion and provides an uninterrupted flow of commerce for the benefit of the people, and I thank Governor Dayton and his team, our team at the Wisconsin Department of Transportation, and those at every level of government who worked on this project for sharing our commitment to getting this decades-long project done."
The bridge is a replacement for the Stillwater Lift Bridge that is about one mile upstream. The old bridge, Minnesota Department of Transportation (MnDOT) reports, was dedicated more than 80 years ago. It caused congestion issues periodically, as it had to lift to allow for boat traffic on the river.
MnDOT also says the St. Croix Crossing is designed to accommodate more than twice the 18,000 vehicles that currently cross the river. It is approximately one mile long, is 100 feet wide and ranges from 110 feet to 150 feet above the water, which allows boat traffic underneath.
The structure contains more than 42 million pounds of concrete and has 1.1 million square feet of surface area. It features a hydrid design that combines a cable stayed build with a segmented concrete box, MnDOT reports. This design was used to allow for the pier heights that extend 65 feet above the bridge surface to not be higher than the river bluffs and to "fit into the river gorge as naturally as possible."
"This project provides a sorely needed new connection between Minnesota and Wisconsin," says MnDOT Commissioner Charlie Zelle. ""This project is a testament to what strong cooperation between states can do. The bridge is a work of art and it is also a technological marvel. Citizens in this region will be well-served for decades to come."