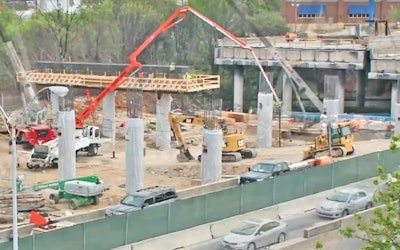 The Georgia Department of Transportation promised (GDOT) a May 15 opening of the rebuilt Interstate 85 bridges over Piedmont Road outside of Atlanta, but decided to one-up itself by opening the northbound lanes on May 12 and the northbound lanes May 13.
Early last week GDOT made the surprise announcement it would open the roadway on May 15, 10 days earlier than its most recent opening announcement and a full month ahead of the original projected date.
GDOT Commissioner Russell McMurry stated last week that contractor C.W. Matthews had just a few punch list items to complete before the opening. The last step was striping on the roadways, with the southbound portion completed May 12, and the northbound completed in the afternoon of May 13.
Below is a time lapse video of the 49-day construction process provided by OxBlue.