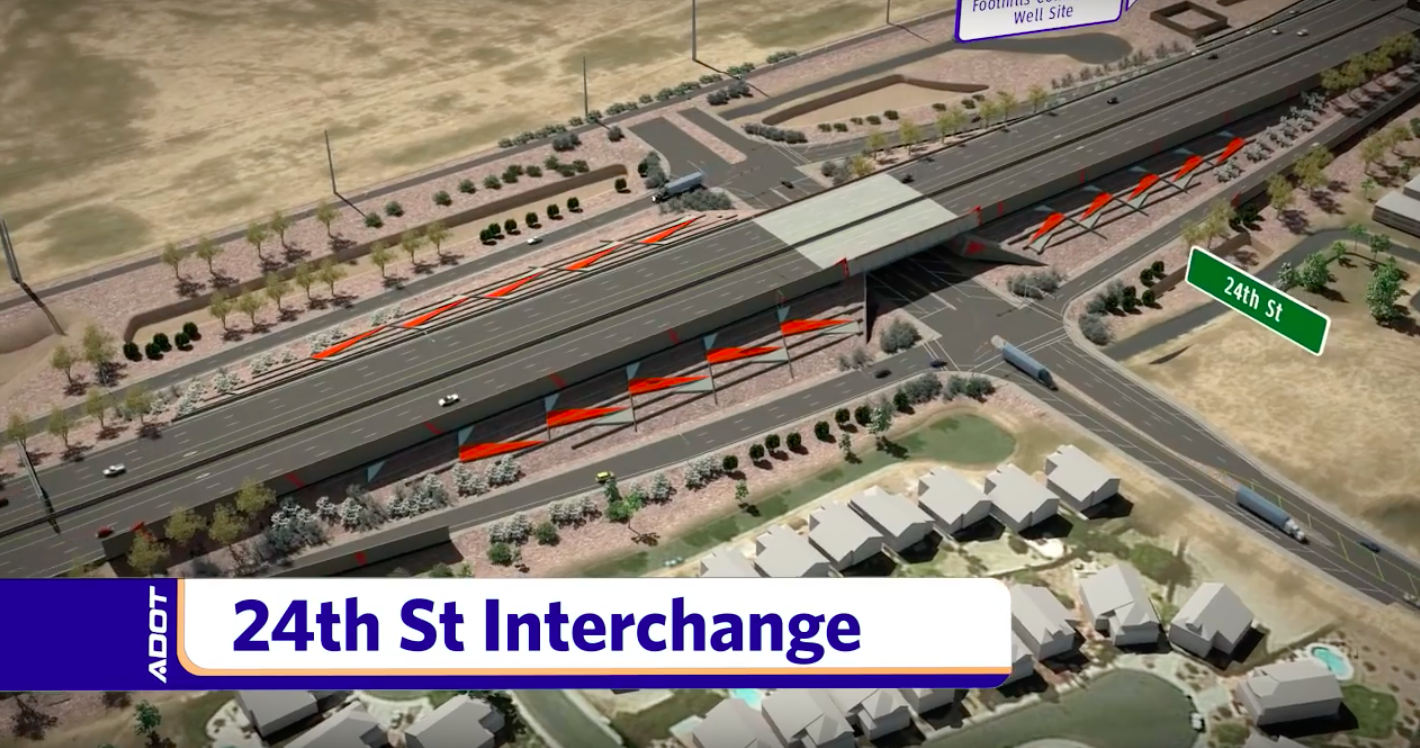 The Arizona Department of Transportation (ADOT) has created an online virtual tour flyover animation of the South Mountain Freeway that has incorporated updated plans for the 22-mile corridor set for complete in late 2019.
The freeway project is the largest single freeway project in the state's history.
The six-and-a-half minute video is an update to a 2013 version created along with the publication of the Draft Environmental Impact Statement by ADOT and the Federal Highway Administration. The older video was released prior to a lot of the final design work have been finished.
Modifications in the new video include:
• Aesthetic and landscaping treatments reflecting neighboring communities
• Direct HOV lane access near 59th Avenue from the South Mountain Freeway to and from downtown Phoenix
• A six-mile-long shared-used path in Ahwatukee, located south of the freeway between 40th Street and 17th Avenue
• Changes to the alignment that reduce the amount of right-of-way required
• Interchange reconfigurations, including diverging diamond interchanges at Desert Foothills Parkway and 17th Avenue, moving the interchange at 51st Avenue to Estrella Drive, and realigning the freeway at 59th Avenue south of Elliot Road
• Locations of sound walls to mitigate freeway noise
• A city of Phoenix pedestrian bridge north of Broadway Road to connect the Rio del Rey neighborhoods in Phoenix.
ADOT says the South Mountain Freeway "will provide a long-planned direct link between the East Valley and West Valley and a much-needed alternative to Interstate 10 through downtown Phoenix as it runs east and west along Pecos Road and then north and south between 55th and 63rd avenues, connecting with I-10 on each end."
Maricopa County voters approved the projects in 1985 and in 2004 "as part of a comprehensive regional transportation plan," ADOT reports. It will complete the Loop 202 and Loop 101 freeway system in the area.