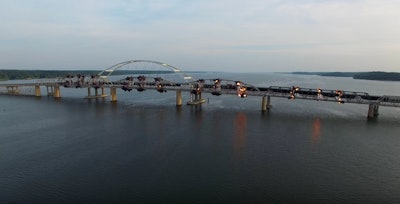 Built in 1932 and functionally obsolete, the old Eggners Ferry Bridge spanning Kentucky Lake near Aurora, Kentucky, was demolished earlier this week by the state's transportation cabinet.
According to a report from the Kentucky New Era, thousands gathered to watch the implosion of the bridge which took place Monday at 6:30 a.m. The drone video below chronicles both the demolition and hours before.
The new $133 million span was built alongside the old one and opened in April.