The U.S. Department of Transportation (USDOT) was formed 50 years ago under the Lyndon B. Johnson Administration and Alan Boyd served as the first Secretary of Transportation, the 12th cabinet post to be created.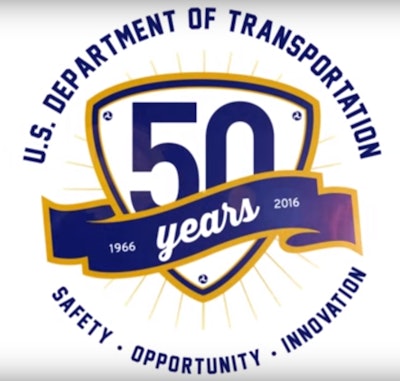 In honoring this milestone, USDOT is focusing its celebration on a different theme each month.
The agency says the purpose of the themes is to "educate Americans about the direct and indirect connections between transportation and our daily lives; celebrate the achievements of the department in solving past transportation challenges; and engage audiences in our efforts to meet the transportation challenges of the future."
The themes include:
February: Transportation's Role in Advancing Ladders of Opportunity
March: Women in Transportation
April: Safety Then and Now
May: Celebrating Public Service at DOT
June: Advancing Innovation and Technology Across the Transportation System
July: Paying for a 21st Century Transportation System
August: Climate Change and Transportation
September: Local and State Transportation Solutions
October: How We Move Things
November: Veterans in Transportation
December: Future Leaders in Transportation
On Feb. 3, USDOT held a ceremony for the 50th anniversary and to honor previous secretaries of transportation, including Boyd (1967-1969), James Burnley (1987-1989), Samuel Skinner (1989-1991), Rodney Slater (1997-2001), Norman Mineta (2001-2006) and Mary Peters (2006-2009).
More information on the department's history and milestones is available here.