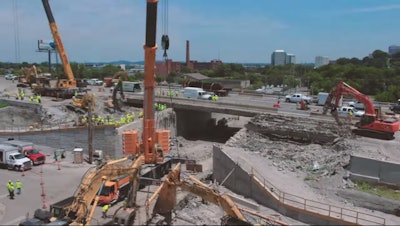 The Tennessee Department of Transportation built a bridge in less than 58 hours, and they've got the footage to prove it.
TDOT released a time-lapse video of the first weekend of the Interstate 40 Fast Fix 8 bridge project in Nashville where workers were able to remove and replace the westbound bridge at breakneck pace.
Vehicles crossed the bridge without delays during their Friday afternoon commute before the Interstate was closed the night of July 24 and the bridge was shut down. By the morning of July 27, drivers had a fresh new bridge over Jo Johnston Avenue.
TDOT's pace actually exceeded its own expectations: the project was finished the road was reopened about an hour before planned.
TDOT repeated the procedure a week later on the eastbound lanes of what was a 47-year-old bridge.
Check out the time-lapse video below: