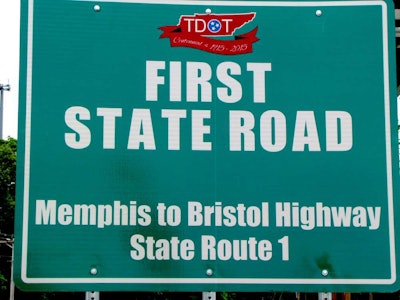 The Ford Model T was just seven years old when Tennessee first established its Department of Transportation. There were no interstates, or barely any roads resembling what lines America today back in 1915, but TDOT was getting started on one of its first major projects with State Route 1.
A century later, TDOT is celebrating its centennial this year with new signs commemorating the anniversary of the "First State Road," as the signs say, according to the Crossville Chronicle.
By July 1, the signs will be visible along the road in every county State Route 1 passes through from Bristol to Memphis—which is where the road gets its nickname as the Memphis to Bristol Highway.
ABC 6 in Memphis reported state officials made their way down State Route 1 in a Centennial Bus Tour earlier this month to unveils some of the commemorative signs.
On top of the signs, TDOT rolled out a new section of its website devoted to celebrating 100 years with an interactive timeline noting important dates in Tennessee transportation history. The website also features the video below, a photo gallery, transportation anecdotes and access to a library of transportation documents.