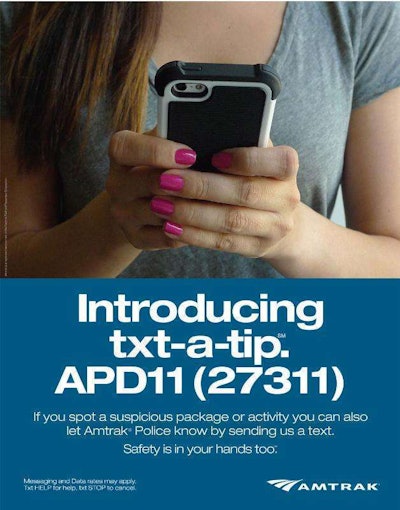 Amtrak passengers and employees will soon be able to report suspicious activity to the Amtrak Police Department (APD) with just a text message.
APD is launching APD11 "Txt-aTip," a program that will allow passengers and employees to send an SMS text message to the Amtrak Police Department's National Communications Center.
"Contacting the Amtrak Police Department by text is another tactic in our multi-layered approach to protecting America's Railroad," Amtrak Police Chief Polly Hanson said in a prepared statement. "Our passengers and frontline employees provide an extra line of defense by being an additional set of eyes and ears while in or around our stations, trains, facilities or right-of-way, and now they can report crime or suspicious activity in a convenient and discreet method, by text message."
Users texting from a smartphone can send a message to APD11, while those with a standard cell phone will send texts to 27311.
Amtrak also participates DOT's Blue Lightning Initiative, which aims to prevent human trafficking.
The sender will receive a response to confirm that the APD has received the text, then a live Amtrak Police Communications Officer will contact and correspond with the sender via text message to learn more about the situation.
"People should trust their gut, follow their instincts, and report anything that just doesn't seem right. It's our job as the Amtrak Police Department to check out anything that's reported and the goal of APD11 is to make that even easier for everyone to do," Hanson said.
Watch the video below to learn more about Amtrak's new "Txt-a-Tip" program.
[youtube v2787Vt5Q8I nolink]