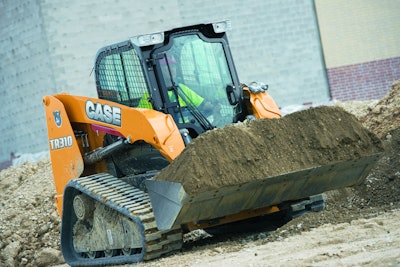 The new Tier 4 Final TR310 Alpha Series compact track loader (CTL) from CASE Construction Equipment features wider tracks (15.75 inches), a greater overall width (74.3 inches) and lower ground pressure (5.0 psi) than other medium-frame CTLs in the Case lineup. These features provide greater power, stability and flotation for owners/operators who need that performance without upgrading to a large-frame machine, according to Case. (For a walkaround video of the new CTL, click here.)
The machine weighs 8,800 pounds and has a rated operating capacity of 3,100 pounds and a bucket breakout force of 8,680 pounds. The machine has 74 horsepower, 232 foot-pounds of torque and increased hydraulic flow (standard: 24.2 gallons-per-minute (gpm); high-flow: 32.4 gpm). Case says the radial-lift arm design is ideal for digging and pushing applications, and the 10 feet, 3 inches machine hinge-pin height works well for for loading and unloading trucks. The CTL also features a 19.5-gallon fuel tank.
The TR310 features a cooled exhaust gas recirculation (CEGR) engine with a particulate matter catalyst, which is made up of a diesel oxidation catalyst (DOC) and a high-efficiency flow-through filter. The DOC converts emissions into neutral gasses. The remaining particulate matter then passes through to the filter where it is slowed and burned. This solution is efficient and maintenance free as it does not require filter replacement.
The TR310 offers an EZ-EH (electro-hydraulic) setup menu that features nine preset speed and control settings, allowing the operator to match controls to their preference. A single rocker switch allows operators to switch between the Case "H" operating pattern and ISO pattern controls, and new handles with Case-exclusive detents that allow the operator to physically feel when the joystick is coming out of neutral.