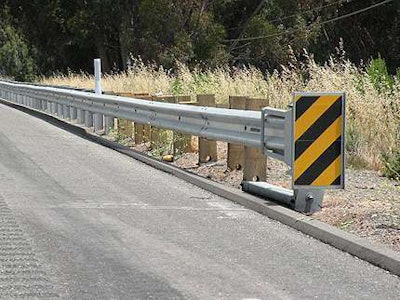 The list of state department of transportations to have removed the controversial guardrail end-terminal model (ET-Plus) from its approved highway-products list continues to grow. Ten states (and counting) have now removed the model, including Vermont, Hawaii, Colorado, Massachusetts, Mississippi, Missouri, New Hampshire, Nevada, Oregon and Virginia.
The ET-Plus model has a steel fixture that is meant to absorb a vehicle's impact. However, the fixture has instead allegedly acted as a deadly spear, impaling vehicles.
"We're not allowing any more to be installed until we have more information about their safety," said ODOT spokesman Dave Thompson.
In a letter to the President of Trinity Highway Products, Federal Highway Administration's acting Administrator Gregory Nadeau said the company has until the end of the month to provide a crash testing plan or the eligibility of the guardrail, called the ET-Plus system, could be suspended or revoked.
Trinity Industries, parent company to Trinity Highway Products, has already been ordered to pay $175 million in damages. That money is expected to triple by statutory mandate after jurors decided the company had defrauded the government several years ago by altering an approved guardrail end terminal design in 2005. The company failed to tell the federal government or state transportation departments about the changes until questions were raised in 2012.
The modifications made in 2005 including shortening ET-Plus end terminals from five inches to four inches. That change is believed to cause the guardrail to jam up, and act as a spear.
"In 2000 VDOT did approve ET plus guardrails systems made by Trinity Industries" said VDOT Public Relation Representative Marshall Herman. "The older design was 5 inches wide. But these ones are only 4."
Herman says Virginia has had over 11,000 guardrails and end treatments installed since 2006. However, VDOT is in the process of replacing the ones deemed deadly.
As more and more states become aware of the potential dangers of the ET-Plus model, it is becoming increasingly clear that safety is of the utmost importance.
"Our number one priority is safety," Nadeau said.