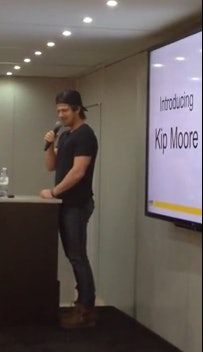 Country singer-songwriter Kip Moore, who will be touring with country superstar Tim McGraw this summer, is partnering with Case Construction Equipment to promote the importance of finding a solution for our nation's crumbling infrastructure.
"Case knows my vision and the things that I want to accomplish…things that I want to do…we are going to do some really cool things together," Moore said during a March 4 press conference at ConExpo-Con/Agg 2014 in Las Vegas.
Moore is from a small town in South Georgia. Some of his songs include, "Beer Money," "Hey Pretty Girl," and "Somethin' 'Bout a Truck."
Maybe we take up a collection for some beer money and put it toward the nation's inadequate infrastructure. That sounds like a country song itself.
(Sorry, country fans. I just couldn't pass up the opportunity on that one. Go ahead – bring on the Irish, Catholic jokes for me. I deserve it now.)
Watch the video below to hear what Moore had to say at the show.
[youtube 6boVRCR_63U nolink]