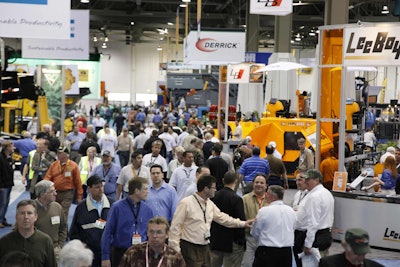 This once-every-three-years show is the perfect opportunity to look at the latest equipment, network and increase your industry knowledge. Here's a guide to the most useful sessions for Better Roads readers.
ConExpo-Con/Agg 2014 is North America's biggest construction equipment trade show with about 2,400 exhibitors and more than 2.3 million square feet of exhibits. Slated for March 4-8, 2014, in Las Vegas, agencies and contractors have the chance to see and test equipment as well as enhance their knowledge with the show's education track.
The Better Roads editors have chosen the sessions that would be most of interest in the education tracks, specifically the Asphalt and Concrete track sessions as well as some sessions in Earthmoving & Site Development and Recycling and Preservation.
Wednesday, March 5, 2014
8:30 a.m. to 9:30 a.m.
Reduce, Reuse, Recycle with High-Percentage RAP Asphalt Plants
Speaker: Malcolm Swanson, ASTEC, Inc.
Session participants will learn about methods and equipment that produce high quality paving materials using very high percentages of recycled asphalt pavement (RAP) up to and including 100 percent RAP. They'll also discover ways of maximizing the use of recycled asphalt shingles (RAS), how to address problems associated with shingles, and how to develop a process for producing RAP that allows for extreme mixes from 100 percent virgin materials to very high RAP percentages in your plant without modifications to it.
Who's Responsible? The Concrete Pump Safety Standard, ASME B30.27
Speaker: Robert Edwards, NBIS Insurance Services, Inc.
In 2014, changes to ASME B30.27 – the American National Standard for Safety of Material Placement Systems (concrete pumps and Telebelts) in the United States – will be published. The effective date of the standard is one year after publication. For the first time, the standard contains the responsibilities of everyone involved in placing material using a concrete pump or Telebelt—from the general contractor to the ready mix driver, and everyone in between. Session attendees will learn about providing a proper set-up location, training requirements of each party, inspection of systems, expectations of the mix, and operation in the vicinity of power lines.
Concrete and Asphalt Recycling for Small to Medium Size Demolition and Site Work Contractors
Speakers (Panel): DJ Cavaliere, Cavaliere Industries; Ron Garofalo, Garofalo Contractors; and Dave Schielein, On-Site Recycling Corp.
Recycling is not just for large contractors. Now small- to medium-sized contractors can have a successful recycling program in place. The panel will be made up of contractors who have successfully used jobsite impact crushing to gain a competitive edge and increase profitability. They will discuss removing concrete curbs, footing, slabs and asphalt paving, and crushing onsite for ⅓ the cost of hauling it away, plus having ¾ minus RCA for base material and how it affects bidding and profitability.
LEED Credit: Stabilization of Marginal or Contaminated Soil For On-Site Reuse
Speaker: Charles Wilk, ALLU Group Inc.
Attendees will learn about the basic principles of stabilization, mixing methods, and examples of successful projects. After this session, participants will understand the basic principles of mass stabilization including binding agents and mixing equipment and be able to apply the technology in property development and reuse of material for time, material, and cost savings and well as to address contaminated properties and materials and facilitate reuse.
Preventing Runovers and Backovers in Roadway Work Zones
Speaker: Brad Sant, American Road & Transportation Builders Association (ARTBA)
This course explains the concept of "Internal Traffic Control" and is designed to train contractors and their employees how to safely navigate around workers and equipment in work zones to avoid runovers and backovers of workers on foot.
10 a.m. to 11:30 a.m.
Effectively Countering Community Opposition to Your Project
Speakers (Panel): Christopher Hopkins, The Saint Consulting Group, Thomas Powell, CEMEX USA; and Mark Harrison, Harrison, Temblador, Hungerford & Johnson LLP
This interactive panel discussion will present case studies of the political hurdles involved in permitting a quarry or cement or ready-mix plant. Individuals including a land use attorney and a producer who has faced this type of opposition — and countered it with a strategic plan — will share their real-life examples. Attendees will learn to develop a strategy for working with the community in order to have them support your operation through the permitting process and beyond.
Creating a Culture of Quality in Your Asphalt Operation
Speaker: Dale Decker, Dale S. Decker, LLC
Learn how to develop a Quality Management Plan for your asphalt operation in this session. By knowing how to evaluate current personnel, equipment and procedures, accountability can be established for quality operations and a quality management plan can be developed.
Concrete Surface Defects: Causes, Prevention, and Cure
Speaker: Michelle Wilson, Portland Cement Association
Attendees will learn about real-life surface defect problems caused by inadequacies in design, construction, and maintenance practices and discover practical solutions to correct existing problems.
You Are Who You Hire: Contractor Safety Management
Speaker: Mike Brodock, Caterpillar
Join this session to learn best practices for hiring and managing contractors that will support the commitment to zero-incident performance. This seminar will help attendees understand the reasons to care about effective contractor safety management – moral, ethical, financial – and to identify the six criteria for safety excellence and the four steps for accountability.
1 p.m. to 2:30 p.m.
Best Practice for Compaction of Asphalt Pavements Part 2
Speaker: Charles Deahl, Fat Boy Roller LLC
Attendees will learn how to set up a paver and rolling train to maximize production, quality, and achieve bonus density and smoothness. Participants will also leave the session with an understanding of the importance of relationships on a paving crew and how this contributes to best practice and profitable quality paving and how to help control insurance costs to improve the "bottom line" by implementing programs for safe operation of pavers and rollers.
Construction Technology Forecast: What's Here and What's Coming
Speaker: James Benham, JB Knowledge Technologies, Inc.
Learn about the latest web-based solutions, including free general services and applications for construction professionals, in this education session. Participants will analyze case studies of how industry leaders are using innovative devices, applications, and systems to reduce paper and increase collaboration.
They'll also discover what the convergence of technologies and augmented reality will mean for their firm.
Design and Construction of Concrete Parking Areas
Speakers: Tim Cost, Holcim (US) Inc. and Amy Miller, National Ready-Mix Concrete Association
ACI 330R-08 is the accepted "Gold Standard" for planning, designing, or building a concrete parking lot and will be reviewed, section by section, as a primer and in contrast with other commonly used procedures. Covered will be related best practices including proper concrete thickness and jointing design, subgrade preparation, materials, testing, selection of methods and equipment, and specifications. Examples of both successful and problematic projects will be used to reinforce the principles of good design and construction. Common problem areas and practices that should be avoided will be discussed and specific recommendations of 330R summarized.
Using Recycled Shingles in Asphalt
Speakers: Lee Gallivan, Federal Highway Administration and Ron Sines, Oldcastle Materials
Using recycled asphalt shingles (RAS) has proven to be an economic boon to "hot mix" producers. However, there are certain steps to take that will ensure a successful process. Learn the proper methods for effectively using RAS from industry experts and explore new trends in the RAS industry.
3 p.m. to 4 p.m.
Laydown Best Practices
Speaker: Terry Humphrey, Caterpillar
This session will help attendees learn how to place a uniform, smooth mix at the correct grade, how to list proper procedures for delivering mix to the paver, and how to avoid segregation.
On the Surface: Conventional Earth Moving vs. Tractor Pulled Scrapers
Speakers (Panel): Kevin Derden, IMC Scrapers and Gwen Brittian, IMC Scrapers
Learn about the advantages of using tractor pull scrapers vs. conventional equipment on the jobsite during this session. It will help attendees understand how to determine and invest in the appropriate equipment for earthmoving applications as well as identify the advantages of using tractor pull scrapers
Evolution of Tier 4 Regulations and Project Specific Requirements
Speaker: Mike Buckantz, Associates Environmental
Learn how diesel engine regulations have incorporated Tier 4 engine emissions technology. Takeaways from the session include how to incorporate Tier 4 equipment into your fleets and remain competitive, how to understand the regulatory time frames for Tier 4 equipment and the timeframes for manufacturers to introduce Tier 4 equipment.
Milling for Smoothness
Speaker: Eric Baker, Roadtec
This presentation will show contractors the interrelated factors for smoothness of a milled surface as well as production and how to control them. After participating, attendees will understand how to maximize production while also maximizing smoothness in cold plan operations, recognize the factors for smoothness in a milled surface and realize the impact that milling for smoothness will have on production.
EU, REACH and You
Speaker: John Wagner, Association of Equipment Manufacturers
The European Union (EU) REACH was introduced in 2007 because many thousands of chemicals are used in the EU, some in very large quantities with risks to human health and to the environment. REACH (Registration, Evaluation, Authorization and Restriction of Chemicals) addresses this by forcing manufacturers and importers of chemicals responsible for producing data to define the hazards and risks from nearly 30,000 substances that are manufactured or imported in quantities of one ton or more per year in the EU. Chemical safety is undergoing a revolution both in legislation and hazard/risk assessment around the world. REACH – has changed the dynamic of global discussions on chemical policies. This is important because some chemicals may come off the market, hoping that it will be good for the environment and health.