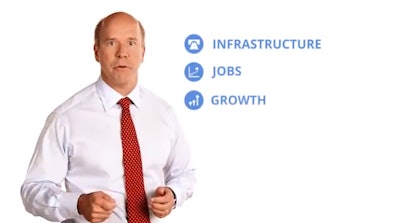 Rep. John Delaney (D-Md.) is touting his proposed legislation as a solution to America's need for infrastructure investment.
In a video released Tuesday, Delaney points out that "America needs jobs and we need to rebuild our critical infrastructure." He says the solution is to "combine business common sense and put solutions ahead of partisanship."
Delaney says his proposed bill, the Partnership to Build America Act (H.R. 2084) does just that.
He outlines that the proposed bill would bring back to the U.S. a portion of the $1.9 trillion in American companies' untaxed foreign earnings at a lower tax rate and allow American companies to invest in low interest infrastructure bonds. Those bonds would fund a $50 billion infrastructure effort that would be leveraged to $750 billion in infrastructure financing.
Delaney adds that the bill would create 3 million jobs and would require no government spending.
(Check out Delaney's video below.)
In addition to Delaney's Partnership to Build America Act, other lawmakers have also proposed solutions such as the Senate's six-year highway bill, House GOP leaders' proposal to use savings from U.S. Postal Service cuts to fund highway projects and the Obama Administration's GROW AMERICA Act.
[youtube lWVVfVbO5Mc nolink]