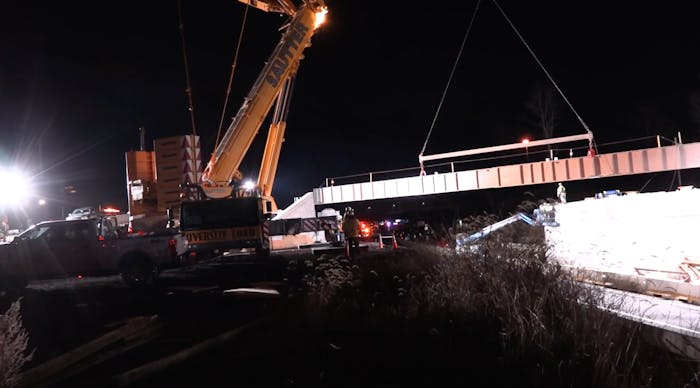 Urban Engineers
Urban Engineers provided this video of steel girders being installed overnight for a replacement bridge over the Pennsylvania Turnpike that will eventually aid the turnpike's widening.
The New Falls Road Bridge in Bucks County, when completed, will have two 251-foot-long spans. In all six girders were installed overnight in January. They were trailered to the site and lifted into place by two cranes. Cross members were then connected between the girder bays.
Urban Engineers is the construction manager on the $11.1 million project, and Allan Myers is the contractor.
The new bridge will replace a single-span steel girder bridge. The new bridge is being extended to encompass a future ramp from the eastbound turnpike to I-295 and the lane widening of the westbound turnpike, according to the Pennsylvania Turnpike Commission. Two local roads will be relocated to connect to the longer bridge. The project is scheduled to be completed by August 20.