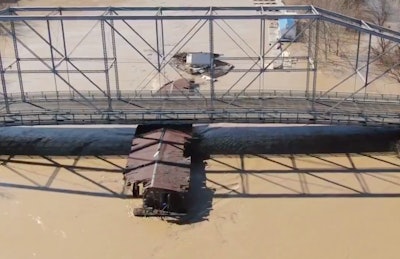 Kentucky Transportation Cabinet
A 200-foot-long marina broke loose during record-breaking flooding on the Kentucky River, scraping the bottom of bridges and leading to emergency bridge closings March 3 through the state capital of Frankfort.
In all, three bridges were temporarily closed, and one bridge had already been closed for repairs due to a previous vehicle strike. The Kentucky Transportation Cabinet reported that initial drone inspections showed no significant damage to the bridges, but that it would need to wait until water levels returned to normal before more in-depth inspections could occur.
The marina struck the bottom of the Singing Bridge and Capital Avenue Bridge. It also passed beneath the West Clinton Street and Metro Street bridges in Frankfort. The marina broke apart during its float downstream.
Gov. Andy Beshear declared a state of emergency February 28 after heavy rainfall caused record flooding. The disaster follows another declared emergency from recent ice storms across the state.
Beshear reported that 20 cities and 44 counties had been affected by flooding.
"What we have seen is some of the worst rain in western Kentucky in parts of Calloway County, to parts of cities underwater in eastern Kentucky," Beshear said. "So many of our people are struggling right now."
Kentucky transportation and emergency workers placed sandbags March 2 to protect Highway 15 and residents from swift river currents that had entered Panbowl Lake in Jackson. The highway is atop a dam, where a large hole had been caused by erosion, and water was flowing under the highway. The situation was stabilized March 2, and residents that had been evacuated were able to return.
Floodwaters began receding March 2. State officials are still surveying damage.