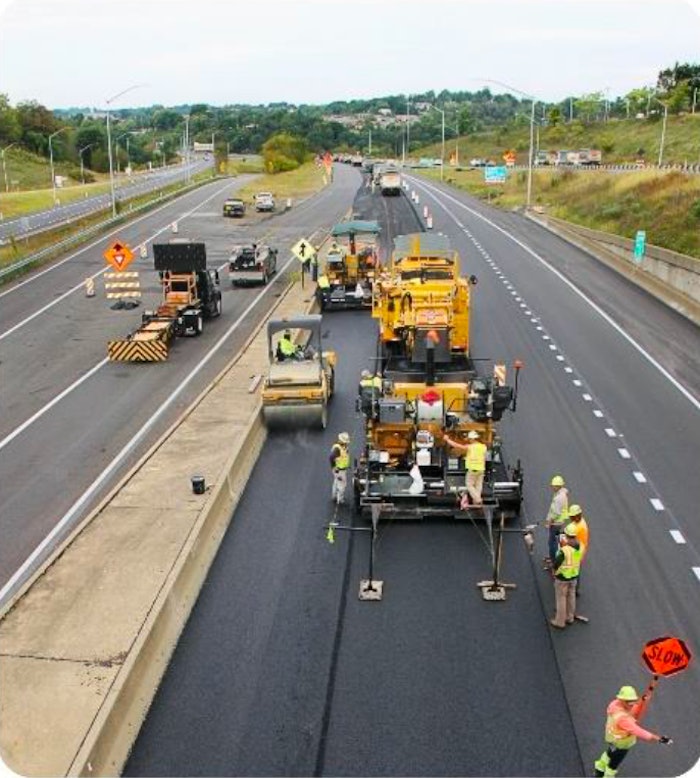 Lindy Paving of New Galilee, Pennsylvania, has received the 2020 Sheldon G. Hayes Award for the top-rated highway asphalt pavement.
Lindy won for its work on the $87.94 million I-279 Parkway North Improvement Project in Pittsburgh. The project was commissioned by the Pennsylvania Department of Transportation. The Hayes Award was presented February 16 at the annual meeting of the National Asphalt Pavement Association.
Lindy is a five-time winner of the award, which requires a minimum of 50,000 tons of asphalt. Nominated projects undergo three rounds of testing, an engineering review, International Roughness Index (IRI) testing, and a visual inspection at least one year after the project's completion.
For the I-279 improvement, Lindy placed over 200,000 tons of asphalt for the two-and-a-half-year multi-phase overlay project.
"This project was very challenging – multiple phases, night work, weekends, limited work windows," said Dan Ganoe, Lindy vice president of operations, in accepting the award during the virtual conference.
"The key to this project's success was that every member of our team – plants, operations, quality control and maintenance – all worked together to perform at the highest level. To us this award is as much about the people as it is about the project. The men and women at Lindy Paving are the ones that ultimately are responsible for its quality and success."
The paving contractor also won praise from Pennsylvania Gov. Tom Wolfe.
"This is the fifth time Lindy has won this award since 2005," he said. "I commend them on this achievement and thank them for their quality work on Interstate 279 in western Pennsylvania."
During the annual meeting, NAPA also recognized the two finalists for the Hayes Award:
Pittman Construction of Conyers, Georgia, and the Georgia Department of Transportation for State Road 15 in Jackson County. This project had a 90-day deadline and included 16.9 miles of milling, single-surface treatment, inlay plant-mix resurfacing and shoulder rehabilitation.
Shelly Company of Twinsburg, Ohio, and the Ohio Turnpike and Infrastructure Commission for the Ohio Turnpike in Portage and Trumbull counties. This project consisted of a mill and overlay of the high-speed lane and the inside shoulder. Most of the paving occurred at night.