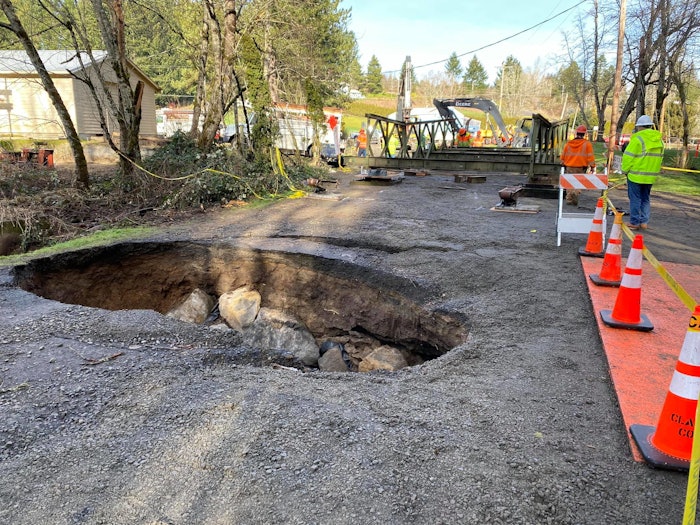 Clackamas County
Used during World War II to enable Allied troops to quickly build and move bridges, the Bailey Bridge continues to serve today by helping communities facing emergency road and bridge repairs.
The latest deployment of the prefabricated steel temporary bridge came January 20 when a large sinkhole formed across a rural road in Clackamas County, Oregon, making it impassable by vehicles and blocking residents from emergency services.
The Oregon Department of Transportation dispatched its Bailey Bridge to be assembled until a permanent replacement can be built.
Check out the ODOT's video below to see the Bailey Bridge's deployment in Clackamas County:
About the Bailey Bridge
The bridge was invented by Sir Donald Bailey, a British military engineer, and used by British, U.S. and Canadian forces during World War II.
U.S. Army surplus Bailey Bridges have been sold to state departments of transportation around the country for use as temporary bridges as they can be quickly deployed and reused.
They consist of modularly designed rectangular panels that are bolted together to form trusses to the desired length, according to the Federal Highway Administration. They can be configured a variety of ways, with the trusses bolted together side-by-side or vertically.
Transverse floor beams are clamped to the bottom chords of the trusses, according to ODOT. The agency uses wood planks for the deck.
Each part of the bridge is standard, and parts are interchangeable, according to ODOT. They can be transported by 5-ton trucks and trailers. The ODOT's bridge is a single span of 12 feet 6 inches wide and can extend from 30 to 210 feet long.