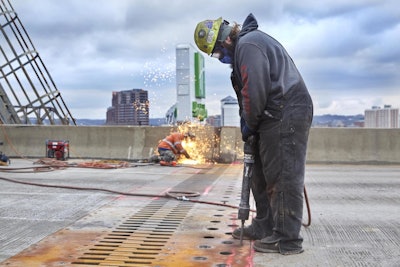 KYTC
The Brent Spence Bridge, closed following a tractor trailer crash that burned a section of the bridge November 11, was reopened under-budget and a day ahead of schedule, reports the Kentucky Transportation Cabinet.
The goal was to open the bridge between Cincinnati and Covington, Kentucky, by December 23. It reopened December 22. The U.S. Department of Transportation authorized up to $12 million in emergency aid for the project. KYTC reports the final costs will be about half of that amount. Kokosing Construction Co., of Westerville, Ohio, was awarded a $3.1 million contract for the repair project. Michael Baker International was the engineering firm.
The repairs included:
Replacing 16 steel beams damaged by the fire
Pouring new upper deck driving surface and concrete barrier wall
Pouring new layer of concrete on lower deck and new concrete barrier wall
Removing and installing drainage system
Installing new overhead lights
Restriping new concrete on upper and lower decks
The I-71/I-75 bridge handles about 200,000 vehicles a day, about twice its capacity. KYTC says discussions continue on building a companion bridge west of the existing one to increase traffic capacity.
See below for KYTC's time-lapse video of the repair project: