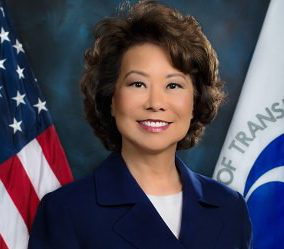 U.S. Transportation Secretary Elaine Chao has resigned her position in response to the invasion of the Capitol on Wednesday by supporters of President Donald Trump.
Chao, the first of Trump's Cabinet to resign over the January 6 riot, said her departure is effective January 11 and directed staff to help Pete Buttigieg prepare for the post.
Buttigieg, former mayor of South Bend, Indiana, and Democratic presidential primary candidate, was picked to serve as the next transportation secretary by President-elect Joe Biden. Biden is scheduled to be inaugurated January 20. Buttigieg faces Senate confirmation hearings after that.
Steven G. Bradbury was named the department's acting secretary on January 12 after serving as deputy secretary of transportation since September 10, 2019. He joined the department in 2017 as general counsel.
Chao released this statement by Twitter announcing her resignation:
Dear Department of Transportation colleagues:
Yesterday, our country experienced a traumatic and entirely avoidable event as supporters of the President stormed the Capitol building following a rally he addressed. As I'm sure is the case with many of you, it has deeply troubled me in a way that I simply cannot set aside.
I am tremendously proud of the many accomplishments we were able to achieve together for our country and I will never forget the commitment you have for the Department and the United Stated of America. I am hopeful that many of you will carry forward our vision to improve the lives of Americans through this Department and beyond.
Today, I am announcing my resignation as U.S. Secretary of Transportation, to take effect on Monday, January 11, 2020. We will help my announced successor Mayor Pete Buttigieg, with taking on the responsibility of running this wonderful department. With all good wishes to each one of you.
Sincerely,
Elaine
Note: This story was updated January 12, 2020, with information about the new acting secretary's appointment.