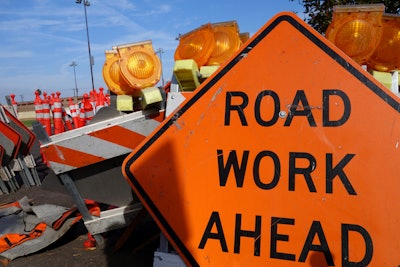 Some federal help is on the way for cash-strapped state departments of transportation, thanks to the recently passed Covid-relief package.
The legislation, signed into law December 27, includes about $10 billion for state DOT road projects. The federal grants are intended to help states recoup revenue declines during the pandemic.
Most states have less gas tax revenue heading into fiscal year 2021 as lockdowns and more people working from home led to fewer drivers on the road.
According to the National Asphalt Pavement Association, $9.8 billion of Covid relief will be divided among state DOTs as Surface Transportation Block Grants. The grants will not require matching state or local funds. The money can be used to cover revenue losses for road and bridge construction, for preventive maintenance, operations, personnel and debt payments, NAPA says.
The American Association of State Highway and Transportation Officials provides an estimated breakdown of how that money will be allocated to each state, which can be viewed by below:
States in need
Associations representing contractors have been calling on more federal aid to help states deal with revenue loss during the pandemic. Some DOTs, such as those in North Carolina and Pennsylvania, have large shortfalls. Projects have been canceled or delayed.
In Pennsylvania, a $600 million shortfall led PennDOT to delay December lettings of about 50 projects until this month to allow political leaders more time to reach a solution. The Associated Pennsylvania Constructors reports that the state will receive about $410 million from the Covid-relief package. Plans are underway to use that money to continue the state's road construction and design plans, but it is still uncertain whether the letting delayed to January 14 will occur as planned, APC says.
The NCDOT, which faces a $2 billion shortfall, is expected to receive $261 million. The Carolinas chapter of the Associated General Contractors says it hopes a statewide bond referendum will pass this year to also help fund road construction. It estimates about $2 billion in road and bridge projects will be let in 2021.
Praise for relief
Associated General Contractors CEO Stephen E. Sandherr praised the additional funding as helping to save construction jobs and keeping planned projects on schedule.
"This new funding should keep a number of road projects from getting canceled or delayed over the coming months," Sandherr said.
The American Road and Transportation Builders Association also praised the additional funding, but was concerned the money could be used for DOT operations and salaries rather than for projects.
"The $10 billion for highway program funding is positive news for the transportation construction industry," ARTBA says. "However, the increased flexibility in the use of funds means governors and state DOT directors may choose to use some or all of their resources on operations, salaries and other needs."
The American Association of State Highway and Transportation Officials reports that it expects the grants to be released by the Federal Highway Administration this month. AASHTO praised the relief package for helping DOTs stay on track with their planning.
"Furthermore," says AASHTO Executive Director Jim Tymon, "this timely federal support will help state DOTs to retain their institutional capacities and to be prepared to deliver future infrastructure investment driving economic recovery and growth."
Editor's note: This story has been updated to correct the source for the state DOT funding breakdown chart.