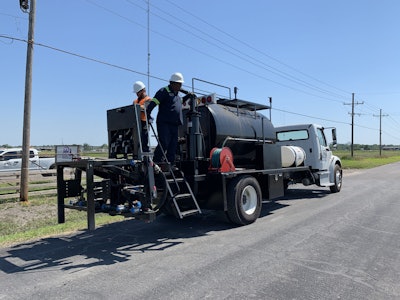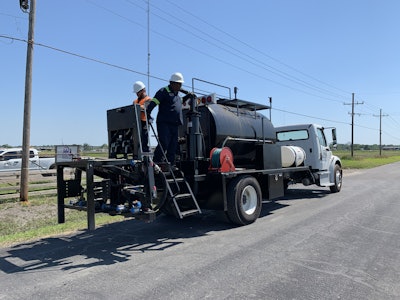 Louisiana-based asphalt maintenance contractor Material Resources Inc. had a solution and a problem.
The solution was to apply Ingevity's Onyx frictional mastic surface treatment to improve weathered asphalt roads facing minor distress. The product enhances friction and reduces future maintenance on roads, says Ingevity. It is also fast-drying and can be applied at less cost than heavier treatments, according to Material Resources.
The problem for Material Resources was that Onyx, which includes aggregate in its mixture, was clogging the company's small-size spray equipment, according to Ryan Casto, operations manager for Material Resources.
The solution came from Neal Manufacturing, a division of Blastcrete, which makes the High-Volume Road Maintenance Vehicle for applying sealcoat.
Material Resources approached Neal with a detailed list of specs. In addition to versatility, it needed high-volume capacity to get the job done quickly. It was also looking for a vehicle that was easy to operate and maintain.
"County and rural roads make up a large portion of our business," says Casto. "We're not always close to home, so we needed a reliable machine that could put down a lot of material in one go and didn't need a certified mechanic if something went wrong."
Neal worked with Material Resources to customize a High-Volume Road Maintenance Vehicle. The unit is equipped with a 1,500-gallon tank that allows Material Resources to spray 10,000 to 12,000 square yards of road with a single application before refilling.
"The standard Neal Manufacturing High-Volume Road Maintenance Vehicle comes with a 3,000-gallon tank, but we felt the 1,500 size would be better suited for the types of roads we predominantly work with," Casto said. "We needed something with lots of productivity but a smaller footprint that could easily get around neighborhoods and tight areas. The Neal team worked closely with us on a custom solution that works with our smaller truck."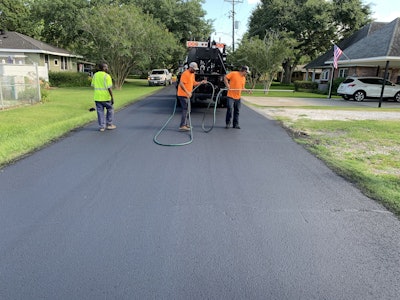 With Neal's Generation IV pump, Material Resources has the flexibility to apply a variety of sealcoat products, including Onyx, without clogs, it says. In-cab controls allow crews to adjust the spray bar and individual nozzles on the go.
Material Resources demonstrated Onyx on a mile-long section of road for the city of Port Allen, Louisiana. The custom vehicle enabled it to complete the project 30% faster than alternative applications, the company says, and with other sealcoat products, the vehicle can complete jobs up to 40% faster.
Material Resources liked the vehicle so much it ordered a second one with some new innovations.
"Our goal has always been providing the right product, at the right time on the right road," Casto said. "Asphalt preservation continues to evolve, and what's right today might change for tomorrow."