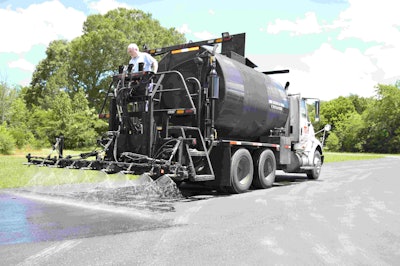 Neal Manufacturing's new Generation IV sealcoating pumps require less frequent routine maintenance than previous versions and can be retrofitted to existing asphalt trucks.
"Customers are continually seeking ways to increase productivity, and once again we listened," says Jim Farrell, CEO of Neal Manufacturing's parent company Blastcrete. "Our Generation IV pumps not only check all the boxes on our customers' wish lists, but they also set the bar on aggregate load. No other pump handles more aggregates and larger aggregates than the Neal Generation IV pump."
The company says the Generation IV pumps offer heavy-duty features, including robotically welded pump housings and industrial-grade hydraulic cylinders. Neal says these components will last 50 percent longer than parts on the previous model.
"Most pumps in this industry last around 30,000 gallons before a rebuild is needed," Farrell says. "We've had our first customer hit 300,000 gallons on our Generation IV pump and it's still going strong."
The Generation IV pump features the company's new filtration system, which is 60 percent more compact than earlier systems and is more efficient and easier to maintain, Neal reports. The filters weigh 98 percent less than the previous filters when full.
The company says it installs the system with dual spraybars with each spraybar being synchronized with one 100-gpm Generation IV pump. Neal offers free training seminars at its Anniston, Alabama, location.