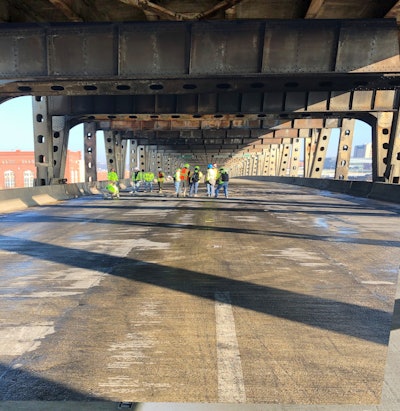 Plans are underway to repair and reopen the Brent Spence Bridge before Christmas. The major crossing of the Ohio River was closed after two tractor trailers crashed November 11.
The 1,500-degree blaze from the crash on the lower deck of the bridge between Covington Kentucky, and Cincinnati damaged a section of the upper concrete deck and steel beams known as stringers. Stringers run parallel to the deck beneath it and transfer deck load to the floor beams, which then transfers load to the truss members.
That deck section and its stringers will be replaced, according to the Kentucky Transportation Cabinet. Part of the lower deck's concrete will be milled and replaced. Concrete railing and the drainage system of scuppers and downspout pipes will also need to be replaced.
None of the bridge's critical steel support components have been compromised, according to Kentucky Transportation Secretary Jim Gray.
"Once the lab testing told us the critical supports were still strong and not compromised, the repair job became clear from an engineering and construction standpoint," Gray said.
"The bridge is safe and sound and sturdy," he added. "The damage could have been far worse. This has been confirmed through an exhaustive inspection of the bridge, supported by laboratory analysis."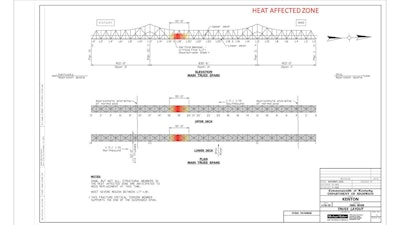 Kokosing Construction of Westerville, Ohio, has won the $3.1 million contract for repair work. KYTC reports that additional costs are expected but not known at this time. The U.S. Department of Transportation will provide up to $12 million for the bridge's emergency repairs.
Kokosing "committed to having the bridge reopened to traffic by Dec. 23," KYTC said.
KYTC's District 6 reported November 17 that steel beams have been delivered to Frankfort for the bridge repairs. "Fabrication will take place at Bottoms Engineering & Services Inc. before going to the construction site," the district tweeted. See the district's video below:
Special Delivery! Steel beams were delivered early this morning in Frankfort for the Brent Spence Bridge repairs. Fabrication will take place at Bottoms Engineering & Services Inc. before going to the construction site. #BSBUpdates pic.twitter.com/c1TtwdMI6b

— KYTC District 6 (@KYTCDistrict6) November 17, 2020
The Brent Spence Bridge carries Interstates 71 and 75 between the two states. It was built in 1963, and 160,000 vehicles travel it each day, KYTC says. It is reportedly structurally sound; however, it carries double its capacity. An additional bridge has been in the works for years to be built beside it to handle the excess traffic.
The crash occurred when a tractor trailer jackknifed. Another tractor trailer carrying potassium hydroxide, or lye, crashed into it. Officials said 400 gallons of diesel fuel fed the flames.
After the crash, police also closed the John A. Roebling Suspension Bridge, which was being used as a detour. Tractor trailer drivers were using the bridge in violation of its 11-ton weight limit, police said. The bridge is scheduled to reopen November 20 to passenger vehicle traffic only.