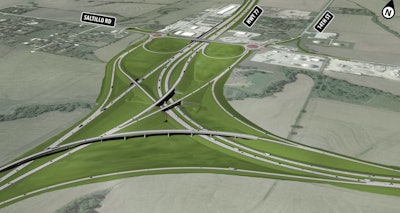 On March 23, the Nebraska Department of Transportation got word that the largest road project in its history might be delayed because of uncertainty that the coronavirus pandemic was causing financial markets.
Nearly a month later, NDOT reports that the financing has been obtained for the $352 million South Beltway freeway project in Lincoln.
The contractor, Hawkins of Construction of Omaha, had been unable to close on financing.
"Due to the instability in the financial markets from COVID-19, Hawkins Construction notified NDOT that they were unable to finalize their financial package within the scheduled timeframe," the agency said in a news release March 23. "NDOT has been in discussions with Hawkins Construction and are working together to resolve challenges and move the project forward."
The NDOT and the contractor are using a new financing method to speed up the construction schedule from eight to three years. Under the financing agreement, the contractor would complete the project in three years, yet the NDOT's payments to the contractor would be spread out for eight years, the project's original schedule.
The NDOT would pay the contractor quarterly for eight years, and the contractor would obtain financing to cover construction costs during the three-year project, according to NDOT. The NDOT issues the contractor "deferred contract payment certificates" as evidence of the agency's obligations to the contractor for the entire eight years. The contractor uses these certificates to obtain financing to cover construction costs.
NDOT said on March 23 it was surprised to learn of the financing difficulties, but the issue has since been resolved. The closing conditions have been met, and the project will be able to maintain its three-year completion schedule, NDOT says.
"Today is a good day," said NDOT Director Kyle Schneweis on April 10. "…Neither the NDOT nor the Hawkins team skipped a beat in reacting to safeguard the project's schedule. We'll continue to work closely with Hawkins to open this historic project to traffic in 2023."
The NDOT says the Lincoln South Beltway is its largest and one of its most complex projects ever and has been planned for decades. The east-west four-lane freeway is expected to reduce congestion on Nebraska Highway 2 through Lincoln and improve traffic flow in the region.