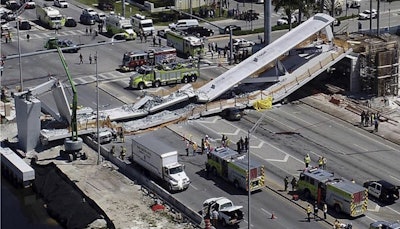 The designer of the Florida International University pedestrian bridge that collapsed in March 2018, killing six and injuring eight, has agreed to settle lawsuits with victims and their families, according to The Miami Herald.
The settlement amount reached with FIGG Bridge Group was not disclosed. Along with FIGG, the Herald reports these other firms have agreed to settle for undisclosed amounts: Bolton Perez & Associates, Corradino Group, A&P Consulting Transportation Engineers Corp., RLT Engineering Services LLC, and Gerdau Ameristeel US Inc.
The settlements come on top of $42 million that the construction company on the bridge project has set aside as part of an agreement with insurers to compensate surviving victims and relatives of those killed. The company, Munilla Construction Management, has filed for bankruptcy and changed its name to Magnum Construction Management.
More than 20 defendants have been named in lawsuits following the collapse.
The announcement of the settlements follows a report released last month by the U.S. Occupational Safety & Health Administration that places blame for the Miami bridge collapse on FIGG, which served as the project's structural engineer. The OSHA report said FIGG should have shut down the bridge when it noticed growing cracks on the structure during its construction. FIGG representatives had also declared just hours before the collapse to members of the bridge's project team that the bridge was safe, according to Florida Department of Transportation records. OSHA said the cracks had occurred "due to deficient structural design." FIGG denied the OSHA findings and called the report flawed.