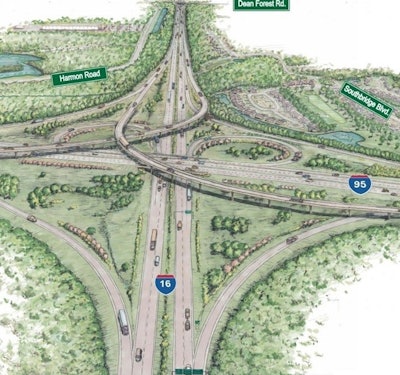 Work at the busy intersection of Interstates 16 and 95 near Savannah, Georgia, is expected to begin next year and will include the state's first turbine interchange.
A turbine interchange, also known as a whirlpool interchange, has two or three levels with ramps forming a spiral around the interchange's center. Such interchanges typically take up a larger area but reduce costs.
The Georgia Department of Transportation reports that the design-built team for the I-16/I-95 interchange, Savannah Mobility Contractors JV, has been issued the first of three notices to proceed on the $295 million project. GDOT says work could begin in early 2019. Construction is expected to be completed in 2022.
The turbine interchange will involve replacing two cloverleaf loop ramps with flyover bridges. A new collector-distributor lane will be added on I-95 north. The project also includes widening I-16 from two to three lanes in each direction between I-95 and I-516, and it will provide a two-lane emergency-use ramp across the media between I-95 and Dean Forest Road for hurricane evacuations. In all, the project will add 12 lane miles.
The intersection is one of Georgia's busiest freight corridors, providing a link to the Savannah port. The project is designed to improve traffic flow and safety. GDOT estimates the project will reduce traffic delays 32 percent by 2030.
Turbine interchanges are not common in the United States. North Carolina's I-85/I-485 interchange is an example of a recent turbine interchange. It was completed in 2015. The two-level turbine replaced a four-level stacked interchange. The project came in $30 million under budget, according to engineering firm STV, which was on the design-build team for the project with Lane Construction.