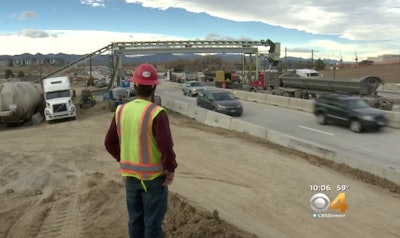 The Colorado Department of Transportation (CDOT) is using a special conveyor system to transport concrete from one side of C-470, where it is mixed, to trucks waiting on the other side in the construction zone, 4 CBS Denver reports.
This allows the concrete to get to its destination quickly, safely, and without any additional impact on traffic.
CDOT is spending $276 million on the C-470 expansion project that is adding lanes in both directions from Interstate 25 to Wadsworth. The conveyor system, which spans the eastbound lanes of C-470, is the first one built for a CDOT project and, quite possibly, only the fourth ever built in the nation.
"The concrete is mixed up, it's deposited onto the conveyor system," said CDOT Project Engineer Jiovanna Toppi. "The conveyor system goes up and over eastbound lanes. It's traveling about 400 feet per minute, and the conveyor system is about 85 feet long.
"We're able to transport concrete from our batch plant here, directly into the center median where we need it," Toppi added, according to the news agency. "It's about 6,000 truckloads of concrete that we're saving from having to interact with traffic on the highway. The trucks drive down to the paving machine. They dump the concrete. They come back and do it all over again. That allows our paving machine to continually move. That's going to result in a final smoother product."
The C-470 project is expected to be complete in the summer of 2019.