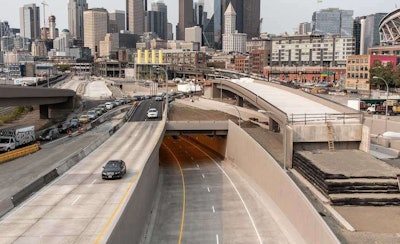 The new State Route 99 tunnel in Seattle is finally getting its stripes, signaling that the project is nearing completion, ENR Northwest reports. The Washington State Department of Transportation (WSDOT) plans to close the Alaskan Way Viaduct to traffic in the not too distant future to realign State Route 99 with the new tunnel.
The striping in the roughly 2-mile-long tunnel between Seattle's stadium district and the Space Needle was creating 11-foot lanes and an 8-foot shoulder on the left side, with a 2-foot buffer on the right on each of the tunnel's two roadway decks. Crews were also painting "running man" symbols approximately 50 feet apart on walls in both directions to direct people to the nearest exits.
Crews are continuing to test the operating systems within the tunnel, which is the final part before it can be commissioned. No definite date has been set, but Seattle Tunnel Partners previously said the tunnel should be ready to go by fall, according to the news agency. Kiewit Infrastructure West Co. crews have already begun to realign SR99 by installing traffic signals, striping, and roadway signage to switch traffic on Alaskan Way from beneath the viaduct to west of the viaduct.
The 1.7-mile tunnel is one part of a $3.2 billion replacement of the Alaskan Way Viaduct, which was built in the 1950s, has deteriorated from decades of use and is vulnerable to earthquakes, according to WSDOT.
Work on the tunnel began in 2013 with the use of Bertha, one of the world's largest tunneling machines. The project is about three years behind schedule due to several delays and mechanical issues with the Bertha tunneling machine.
Once opened to traffic, drivers approaching the tunnel from either direction will face a choice depending on their destination: use the tunnel to bypass downtown, or exit to city streets and head into downtown, according to WSDOT.