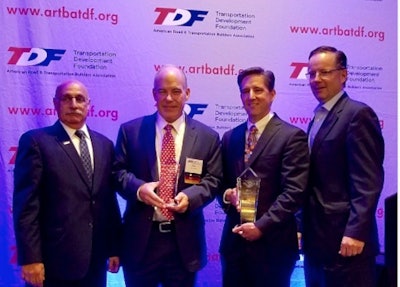 For its civic contributions, Terracon Consultants, Inc., of Olathe, Kansas has won first place in the 2018 "Helping Hand Awards" sponsored by the American Road & Transportation Builders Association's foundation.
The annual awards "recognize extraordinary programs—outside the scope of normal business operations—that demonstrably benefit and help improve the quality of life in the community where the company is based or conducts business," the organization says.
HCSS, based in Sugar Land, Texas, won second place.
The awards were presented May 15 at an ARTBA Transportation Development Foundation event in Washington, D.C.
Terracon employee-owners give back
Through the Terracon Foundation, the company's employee-owners give back to the communities they serve by delivering safe, quality facilities and infrastructure projects that support strong, vibrant communities, ARTBA says.
"Terracon encourages employees to submit requests for one-year grants for local organizations aligned with its company's mission of 'using the earth's resources at a rate in which they are naturally replenished while not compromising the ability of future generations to use them.' Each year, the company participates in hundreds of philanthropic and civic events near its 140 local offices across the nation," the press release says.
Since it began in 2008, the Terracon Foundation has awarded more than $1.6 million to community organizations, universities, natural disaster victims and dependents of employees.
In 2017 alone, the group provided nearly $300,000 in grants to many worthy causes from Society of Women Engineers to Girl Scouts to universities and schools, the press release says.
HCSS of Sugar Land, Texas garners high honor, too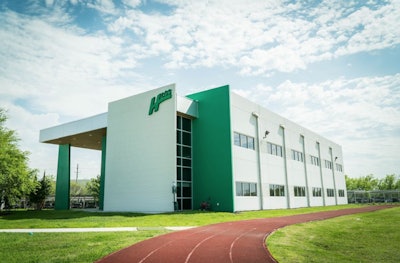 "In August 2017, a large, slow-moving hurricane made landfall southwest of Houston. Hurricane Harvey became a Category 4 storm in just 40 hours, landing near Rockport and Fulton, bringing with it wind gusts of more than 130 miles per hour," ARTBA says.
"HCSS, a construction software company, was spared from flooding. However, 25 company employees in the Fort Bend County community were not so lucky. More than 200,000 residents were impacted, with 6,824 homes damaged in the county."
About 20 percent of the county's land area was flooded, requiring nearly 10,000 emergency rescues and resulting in three deaths.
"Homes across the county took on multiple inches of floodwater, ruining all possessions inside. Unlike most storms, which make landfall and quickly move inland and away from the coast, Harvey stalled over the Gulf Coast for several days, producing catastrophic and deadly flash flooding.
"Cedar Bayou in Houston recorded a new North American record of 51.88 inches of rainfall in less than 48 hours, and more than one-third of Houston was underwater.
"Nearly 40,000 people were forced out of their homes and into shelters. All told, the storm damaged 203,000 homes, destroyed 12,700, caused more than $125 billion in damage and had affected 13 million people from Texas through Louisiana, Mississippi, Tennessee, and Kentucky as moved its way through to the eastern U.S. The storm also claimed 88 lives,"
During the storm, HCSS continued normal business operations as much as possible, with many employees working from home in order to continue meeting the "24/7" customer service needs of customers from around the country, ARTBA says.
"But several employees had in mind to do much more than just proceed as normal.
"HCSS coordinated cleanup efforts in the community, spending $27,000 on supplies. It also provided a staging area for those supplies and others donated by customers, coordinated 1,200 volunteers who donated 20,000 hours to clean up 250 homes, and housed Christian Aid Ministries workers who came to Texas to help with cleanup.
"Employees and customers also raised nearly $150,000 via a "Go Fund Me" campaign to help other employees impacted by the storm."
Established in 1985, the ARTBA Foundation is a nonprofit designed to "promote research, education and public awareness" about the impacts of transportation investment.