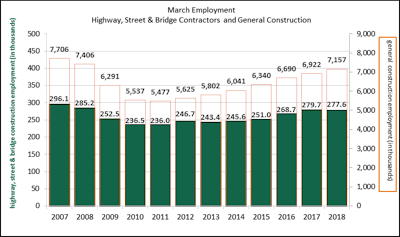 March saw the first decline in road and bridge construction employment in five years, according to the American Road & Transportation Builders Association.
Compared to March 2017, there were 2,100 fewer highway and bridge construction workers in March 2018, ARTBA says, citing recent data from the U.S. Bureau of Labor Statistics. The decline represents a contraction of less than 1 percent, and the first March drop since 2013.
Despite the loss of jobs, those who are working in the industry are making more, on average, than they did in March 2017. Average hourly wages rose 2 percent in March 2018 when compared to March 2017. Those in road and bridge construction make $26.58 per hour, ARTBA says.
Average hourly wages for the overall construction industry continued the rise in April, at 3.5 percent over April 2017, according to Associated General Contractors. The average hourly wage was $29.63 in April, AGC says.
Overall, the U.S. economy continues to add jobs. In April, unemployment fell to 3.9 percent, the lowest rate since 2000, according to the Bureau of Labor Statistics. The new rate follows six months of 4.1 percent unemployment.
Overall construction employment rises
The Associated Builders and Contractors reports that in April the construction industry added 17,000 new jobs, with a 9,000-net-job-increase for nonresidential construction.
Overall, the non-seasonally adjusted unemployment rate for the construction industry fell 1.1 percent to 6.5 percent in April, but remains 0.2 percent higher than April 2017, ABC reports.
Associated General Contractors says the construction industry has raised wages over the past year and is attracting more workers, but there are still concerns about the tight labor market.
"Many firms are boosting pay and taking other steps to compete for a relatively small pool of available, qualified workers to hire," said Stephen E. Sandherr, the association's chief executive officer. "While these steps appear to be luring more construction workers back to the job market, firms report they would hire even more workers if they could find enough qualified candidates."
Hourly earnings in the industry averaged $29.63 in April, an increase of 3.5 percent from a year earlier, AGC says. That put the average hourly earnings in construction 10.4 percent higher than the average for all nonfarm private-sector jobs, which rose 2.6 percent in the past year, to $26.84, Sandherr said.
ABC officials are cheered by the May 4 jobs report from the Bureau of Labor Statistics.
"Today's employment report supplies strong confirmation of the ongoing momentum in the U.S. nonresidential construction industry. This is important for a number of reasons," said ABC Chief Economist Anirban Basu. "First, nonresidential construction spending data has been weak recently, suggesting a possible slowdown in activity despite elevated backlog and other data indicating continued strength. The employment data released today make it highly likely that the nonresidential construction spending data are failing to fully capture the current level of activity.
"Second, the data indicate continued momentum in private nonresidential construction activity, which has served as the primary source of industry growth. However, public activity continues to be soft, as reflected in the lost employment in the heavy and civil engineering category last month.
"The decline in national unemployment to 3.9 percent offers both positive and negative news. The positive news is that the U.S. economy continues to flourish, creating new opportunities for job seekers. This should help support continued consumer spending growth. However, the dip in unemployment also foretells more inflationary pressure and higher interest rates. Higher borrowing costs make it more difficult to efficiently finance construction projects. To the extent that interest rates are likely to rise further, construction activity can be expected to flatten at some point in the middle and long term."