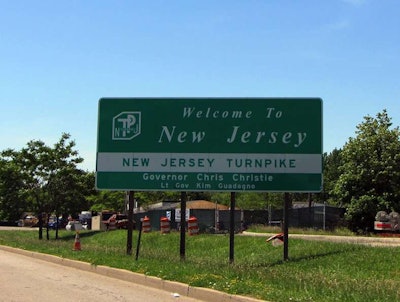 New signs are going up along Interstate 95 in New Jersey as part of a project to redesignate the highway to I-295.
Sign installation began January 16 in Mercer County with new signs and mile markers beginning at the Route 1 interchange and extending south toward the Delaware River and back. The signs will remain covered until corresponding overhead signs are updated with new exit numbers, according to the New Jersey Department of Transportation.
The installation is part of a larger project to construct a new interchange to connect I-95 to I-276/Pennsylvania Turnpike at Interchange 6 via the New Jersey Turnpike Pearl Harbor Memorial Turnpike Extension in Florence, New Jersey.
When the new I-95/Pennsylvania Turnpike interchange is completed in Bristol this summer, these highways will be redesignated as I-95, which will create a continuous I-95 from Pennsylvania through New Jersey, NJDOT says.
The section of what is now I-95 in New Jersey is becoming I-295 by extending the existing I-295 from the Route 1 Interchange to the Delaware River. Concurrently, the I-95 section in Pennsylvania, from the Delaware River south to the new interchange, will be redesignated as I-295. Seven interchanges in New Jersey and four interchanges in Pennsylvania will be renumbered, as well as four exits on I-195 in Hamilton, according to NJDOT.