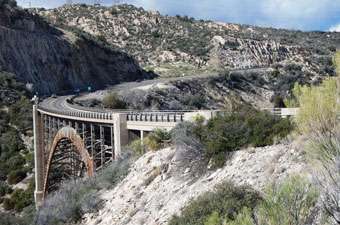 The Arizona Department of Transportation (ADOT) is accepting public comment as it considers options for the historic U.S. 60 bridge over Pinto Creek, which is considered structurally deficient.
Built in 1949, the 637-foot-long Pinto Creek Bridge is located in Gila County, about six miles west of Miami, Ariz.
It no longer meets minimum standards set by the Federal Highway Administration, the American Association of State Highway and Transportation Officials and ADOT's bridge design guidelines. Though it continues to be safe for traffic, ADOT says, "the structure is considered structurally deficient and functionally obsolete."
ADOT has asked for public input on possible courses of action for the steel-arch Pinto Creek Bridge. These are:
Building a new bridge and removing the existing bridge, which is the action that ADOT and the Federal Highway Administration have decided to pursue
Rehabilitating the existing bridge
Building a new bridge and rehabilitating the existing bridge
Taking no action
Comments needed to be received by Dec. 8 to be included in the official project record, the agency says. But that doesn't mean people can't weigh in.
"Until we reach the point of construction, people are always welcome to submit comments," says Tom Herrmann, an ADOT spokesman.
Comments can be submitted by email to PintoCreek@azdot.gov or by calling the ADOT Project Information Line at (855) 712-8530.
For more information on projects involving this and other historic bridges, the Arizona Federal Highway Administration office has completed a report. It's posted at azdot.gov/PintoCreekBridge.