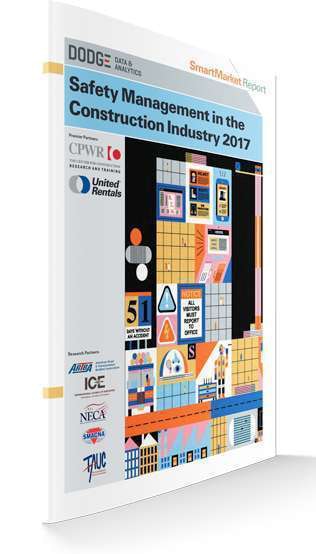 A new study from Dodge Data & Analytics, in partnership with the Center for Construction Research and Training (CPWR) andUnited Rentals, reveals two critical trends for improving construction safety — jobsite technologies and the practice of Prevention through Design (PtD).
The study, Safety Management in the Construction Industry 2017,is the third in a series of studies demonstrating the financial and project benefits that contractors reap from safety investments. It also shows the impact that new technologies deployed onsite, from building information modeling (BIM) to drones to wearable devices, have on improving safety.
The study examined the degree to which contractors are deploying technologies that can help improve jobsite safety, such as BIM, mobile tools, and emerging technologies like drones and wearable devices, and how those technologies are already helping to improve safety. It shows that investment in safety has a positive impact on project budgets, schedules, quality, and business factors such as a contractor's standing in the industry or ability to contract new work. Contractors reporting positive impacts see a nearly 5 percent reduction in project schedule and a 4 percent reduction in project costs.
The study followed up on the 2012 and 2015 findings on leading indicators of a positive safety culture and climate on jobsites. "This survey helps us track what is happening in the industry relative to each leading indicator," says Chris Cain, executive director, CPWR, in the press release. "These findings are extremely useful in identifying needs and opportunities for improvement."
"Technology is drastically improving jobsite safety, providing tangible results in protecting workers and firms alike," says Jim Dorris, United Rentals' vice president of environmental, health and safety, in the press release. "Evolving data platforms, tools, and service capabilities will deliver innovative new safety solutions, and United Rentals is excited about the emerging roadmap to safer projects of all types.
The study also shows that, even though PtD is still an emerging practice, it is well-positioned to gain wider acceptance in the design and construction industry. While few architects were aware of the formal name for PtD before taking the survey, the use of these practices occurred at least to some degree. The biggest barrier to wider use of PtD among architects is concern about construction liability followed by lack of client interest. Yet most architects said they would be influenced by requests from their clients to take this approach, and more than two thirds said they would be influenced by insurance incentives.
"The survey findings confirm two things we have been hearing for years," says Cain in the press release. "Owners drive construction safety and health, and architects are reluctant to implement PtD solutions without client pressure. By ensuring the entire team, starting with the owner/client, focuses on preventing jobsite hazards, we will continue to see improvements in worker injuries, illnesses, and fatality rates.