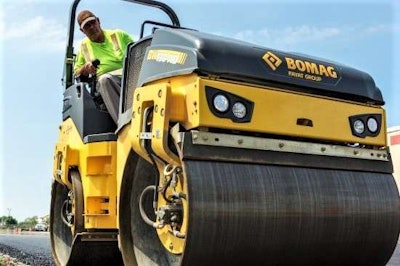 Contractors and municipalities looking for ways to increase efficiency might want to consider the updated BOMAG BW 138 AD-5 tandem vibratory roller, known for its large drum diameter and high compaction force.
A 54.3-inch rolling width makes short work of granular soil and asphalt compaction on projects ranging from parking lot paving to county road repair to compaction of urban street developments, according to BOMAG.
And when equipped with the intuitive Economizer compaction measurement system, the BW 138 AD-5 alerts operators to compaction progress of the soil or asphalt material. That reduces passes, which saves time and money, the company says in a press release.
While Economizer is technically an option, it's seen more as standard feature today. According to BOMAG, the vast majority of contractors order the BW138AD-5 with Economizer, showing the importance of this compaction monitoring system to the market.
Economizer requires no calibration to reliably deliver real-time compaction progress, the company says. As the degree of compaction increases, the more LED lights on the light strip illuminate and indicate when optimum compaction is achieved.
The system also warns operators of potential over-compaction to prevent aggregate fracturing as well as allows for the identification of "soft" spots in the material, BOMAG says.
Here are some updates and highlights of this roller:
The engine is now a 45.1-horsepower Kubota diesel engine that meets Tier 4 Final emission standards.
Dual vibrating frequencies have been updated to 3,000 and 3,360 vibrations per minute. The low-end vibration frequency (on the 3,000) has been increased to slightly increase rolling speed. while maintaining proper impact spacing on asphalt projects.
Maintenance-free bearings eliminate the need to grease hinge points.
Braided cable bundles improve both machine reliability and longevity.
The self-explanatory control panel dials provide intuitive control for workers with varying level of operating experience.
Dual control levels with integrated horn and vibration actuation enable precise control of the machine's movement.
A 35.4-inch drum diameter delivers more drum impact area with the surface than with smaller compactors, which can reduce rolling resistance, deliver smoother surface finish and improve asphalt mat quality, BOMAG says.
With its 0.020-inch amplitude and average linear load of 86.6 pounds/inch, the BW 138 AD-5 deeply penetrates asphalt and granular soil base materials.
Front-only, rear-only or front-and-rear vibration mode operation allows the operator to adjust machine compaction output to the jobsite conditions.
A pressurized water spray system with five-step interval timer lengthens operating time between refills of the roller's high-capacity, 81.9-gallon tank.
Dual water filtration at the inlet helps to prevent spray nozzle plugging, and the quick-attach nozzle design helps to facilitate servicing and quick replacement. Protected to help prevent wind deflection, the five spray nozzles provide uniform coverage across the drum's width to prevent material pick-up, too, the company says.
Other features:
maintenance free articulation joint with bolt-on construction for fast removal
two-inch crab steering for easy compaction against obstructions
an ROPS canopy that quickly folds down without requiring tools for easy transport
central machine positions offering visibility to front and rear drum edges
for operator comfort, there's a vibration-isolated platform design and ample leg room