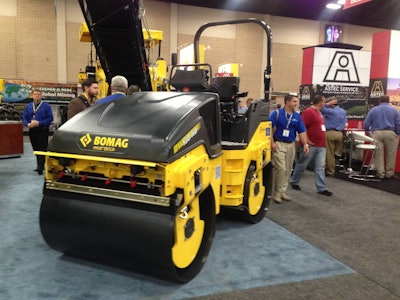 At its World of Asphalt booth in San Antonio, Bomag featured its update to the BW138AD tandem roller, which now has the Bomag's Economizer technology as an option.
The Economizer provides operators with a real-time reading of soil stiffness during the compaction process. Watch the video below to learn more about the Economizer and what it means for Bomag's BW138AD-5 tandem roller.
[youtube yv5NuY7C31Y nolink]
The Economizer uses an acceleration sensor to measure stiffness of the material across the compacted material, then displays the data using a series of ten yellow LED lights on the roller's instrument panel. The lights stop increasing when maximum compaction has been achieved and suddenly drop to indicate a weak spot in the material.
The Economizer also uses a red LED light on the display to warn the operator of potential over-compaction.
The BW138AD-5 tandem roller, powered by a Tier 4i 45.3-horsepower, water-cooled Kubota diesel engine, features:
a maximum centrifugal force of 10,800 pounds,
a working width of 54.3 inches
35.4-inch diameter drums
dual vibration frequencies of 3,480 or 2,820 vibrations per minute
a bolt-on oscillating and articulating joint on the roller
a pressure water sprinkler system with a 81.9-gallon water tank
filtered spray nozzles and an automatic interval sprinkler control
solid windscreens
flexible, spring-actuated scrapers
durable composite hood
accessible lashing rings, a single lifting point and integrated towing hook
lockable roller engine hood
The BW138AD-5 also features a foldable ROPS with seat belt, back-up alarm, emergency stop button, and front and rear working lights.