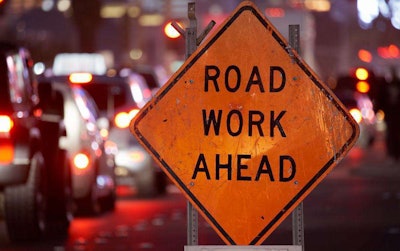 A road construction worker was intentionally struck by a car inside a work zone in Missouri, according to KMOV TV news station.
The station said the driver of the car became impatient while waiting at the construction site and passed several cars trying to get through. Though the worker tried to get her to stop, the driver honked her horn, yelled at the worker and knocked him to the ground with her car, the station reports.
The driver was prevented from fleeing by the victim's co-workers.
The worker was directing traffic at the intersection of Edgar Road and East Jackson Road in Webster Groves and suffered minor injuries, according to the Webster Groves Police Department. The woman was charged with misdemeanor assault.