A 49-year-old concrete bridge in the Big Sur community of California that collapsed from a landslide has been replaced after eight months, the state's department of transportation reports.
Caltrans used accelerate bridge construction for the first time to build the new State Route 1 Pfeiffer Canyon Bridge.
"It's a project that would normally take several years to complete," said Malcolm Dougherty, Caltrans director.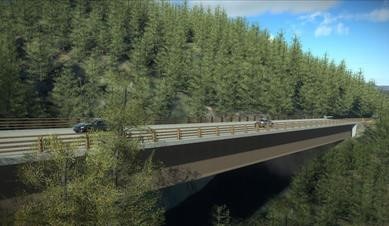 Caltrans says dozens of workers constructed the single-span steel bridge by working long hours and six to seven days a week since March. The new bridge over the 310-foot canyon consists of 15 steel girders fabricated in Vallejo that weigh 62 tons each.
Caltrans said the new bridge was also designed to withstand future landslides because it has no support columns that would create structural vulnerability.
The landslide at Pfeiffer Canyon was one of three major slides that affected State Route 1 in Monterey County last winter due to record rainfall, Caltrans says. The old Pfeiffer Canyon Bridge was demolished in March. The replacement bridge cost $24 million, with Golden State Bridge Company in Benicia serving as the contractor.