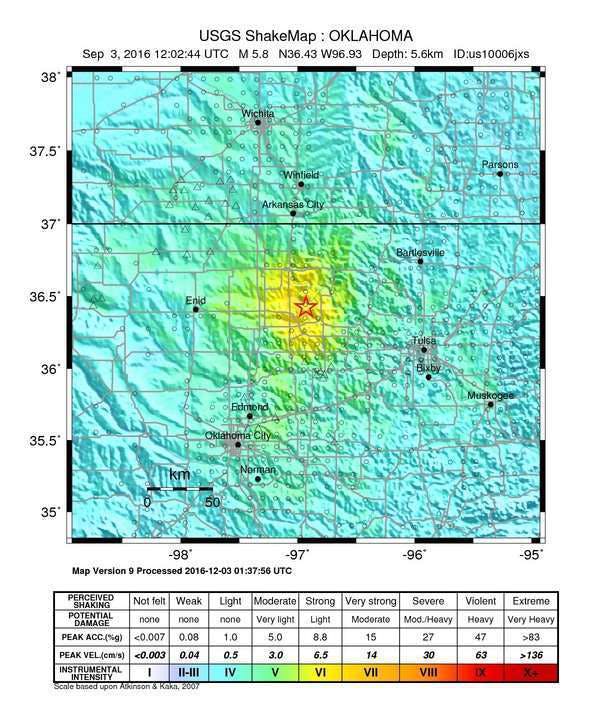 The Oklahoma Department of Transportation (ODOT) is using the U.S. Geological Survey's (USGS) ShakeCast program to help inspectors develop a protocol for inspecting bridges following an earthquake.
Oklahoma has experienced an increase in both the number and severity of earthquakes over the past seven years, during which time there was "cosmetic damage" found following a 5.8-magnitude earthquake near Pawnee in September 2016 and "minor damage" to pavement on U.S. 62 near Prague in 2011 after a 5.6-magnitude earthquake.
"Bridges are designed to national standards, which includes the ability to withstand vibration," says ODOT Bridge Engineer Steve Jacobi. "Oklahoma's bridges have weathered the increased seismicity very well, and our data shows that even our oldest state highway bridge designs are safe at the earthquake levels experienced to date. However, the department is committed to visual inspections to ensure public safety after larger magnitude earthquakes. If there is ever even the slightest question about a bridge's safety, it would be immediately closed until more thorough inspections could be completed."
ODOT inspectors have been visually inspecting bridges that were within 5 miles of the epicenter of any earthquake of a 4.4 to 4.7 magnitude, and then bridges further out at higher magnitudes. The department says as a general rule damages were found resulting from earthquakes ranging from 4 to 5.
The ShakeCast program, which automates the delivery of ShakeMaps and other earthquake data, "will identify only specific bridges susceptible to damage, allowing for a faster and more pinpointed response."
"This technology is one of the biggest advances in ensuring public safety that I've seen in my 30-year career at the department," says ODOT chief engineer Casey Shell. "By comparing state bridge data with the severity of an earthquake's ground motions, ShakeCast will allow us to inspect fewer bridges but with a much greater degree of confidence that we could quickly find any potential damage."
The department reports ShakeCast is in the final stage of a contract with Infrastructure Engineers to help the department develop this earthquake response protocol. The last steps of the contract are to formalize the plan, provide final training and manage four years of system maintenance.
Oklahoma is one of 10 earthquake-prone states in a pooled-fund study with USGS to continue enhancements to ShakeCast. ODOT reports it is contributing $45,000 over three years to the study.