Nine projects from five states were named the top transportation projects as Mid America regional winners for the 2017 America's Transportation Awards. The awards were presented during the Mid America Association of State Transportation Officials' (MAASTO) annual meeting in Cleveland, Ohio.
The northeast regional winners of the America's Transportation Awards were announced earlier this month, and the western regional winners were recognized in June.
The American Association of State Highway and Transportation Officials (AASHTO), the AAA motor club and the U.S. Chamber of Commerce sponsor the America's Transportation Awards program, which honors the best transportation projects in the categories of Quality of Life/Community Development, Best Use of Technology and Innovation and Operations Excellence. This is the tenth year of the program.
Regional state officials submitted 22 projects from nine states for the Mid America region this year. The winners include:
Quality of Life/Community Development
Minnesota DOT won in the small category (projects costing under $25 million) for its Highway 61/Main Street Project.
"The Minnesota Department of Transportation and the city of Red Wing recognized a need for pavement improvements on Highway 61 on city's Main Street while also giving pedestrians easier access and additional safety protection across Highway 61. The $9.7 million project took place in the historic river town's downtown, a crossroads of sort, connecting bicycle trails, pedestrians, a river port and an Amtrak station. MnDOT recommended and supported the city in two grants that provided bump outs and other traffic calming devices and helped the project change from a mill and overlay into a full reconstruction. MnDOT was able to split the project in two shorter construction seasons to not heavily impact the fall tourist season."
The winner in the medium category (projects costing between $25 million and $200 million) was Missouri DOT's U.S. 60 Freeway Project near Rogersville.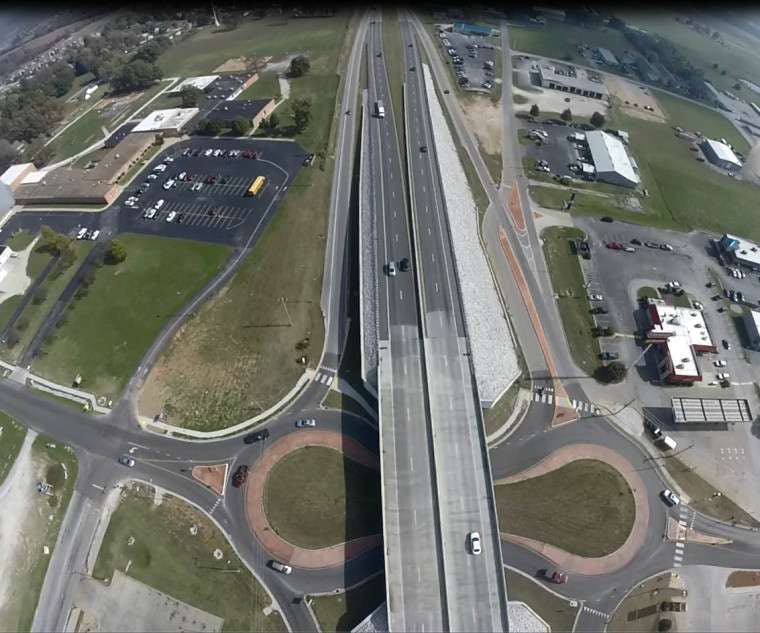 "What does the Missouri Department of Transportation do with $35 million in savings from past road construction projects? It reinvests the money into the state's transportation system to improve safety and promote economic development in a fast growing part of southwest Missouri, resulting in the Project Freeway: U.S. 60 Rogersville Project. The project, which consisted of building a new "dog bone" roundabout at the interchange of Route 60, was 20 years in the making and has resulted in a safer route for residents and drivers to get in and out of the community, greater economic development, and a new generation of student interest in engineering, as MoDOT partnered with the local school district to get students involved in the field during this project."
Indiana DOT won in the large category (projects costing more than $200 million) for its Ohio River Bridges—East End Crossing.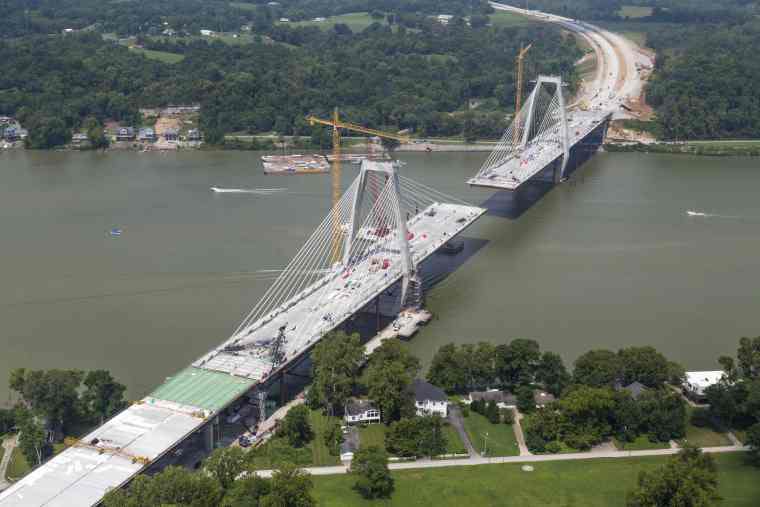 "The Ohio River Bridges Project – East End Crossing is a $1.2 billion transportation infrastructure project by INDOT connecting Prospect, KY, to Utica, IN, via eight miles of interstate quality roadway, a twin-bore tunnel, and a cable-stayed bridge over the Ohio River. Financed and constructed through an innovative public private partnership, the project's purpose is to improve cross-river mobility in the region by providing traffic congestion relief to commuters travelling through downtown Louisville. By providing an alternate route, it provides travelers with a safer and faster commute, thus addressing a long-term desire of metro-area residents. The project is projected to provide a significant economic benefit to the region. The project's location puts it close to several major interstates, the Port of Indiana-Jeffersonville, the Louisville International Airport, and the UPS Worldport shipping hub. Impact studies have shown that the project will support an average of 15,000 jobs per year and that the regional economy will experience an increase of $29 billion in personal income, and $87 billion in economic growth between the years 2012 and 2042."
Best Use of Technology and Innovation
Missouri DOT won in the small category for its Columbia I-70 Bridges Design Build Project.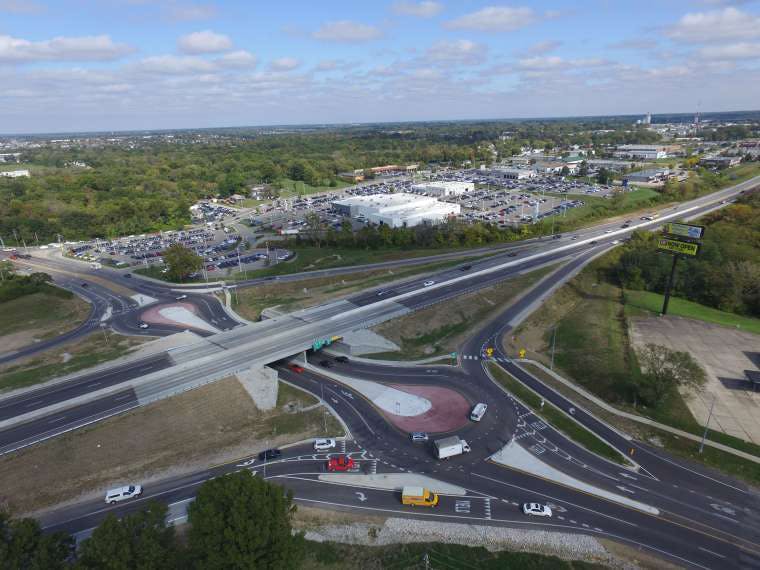 "How do you keep 80,000 vehicles a day moving on a cross-state interstate while replacing a number of aging and deteriorating bridges and improving two major interchanges? That's the challenge the Missouri Department of Transportation faced with the $17.5 million Columbia I-70 Bridges Design-Build project. The project included replacing bridges on Interstate 70 at Garth Avenue, Range Line Street and Business Loop 70/West Boulevard in Columbia. Improving the interchanges at Range Line Street and Business Loop were also part of the design-build project. Sliding bridges, dual-lane roundabouts and a dog-bone interchange were just some of the components of this fast-paced, innovative project. Several of the new bridges were built next to the existing structures and slid into place to minimize closures on I-70 and affected city streets. Completed in August 2016, drivers are now able to enjoy traveling a safer route to their destinations."
Minnesota DOT's Interstate 35E MnPASS Project won in the medium category.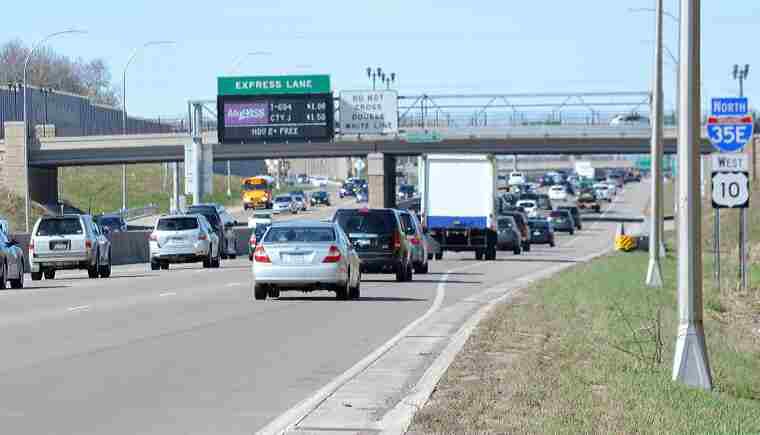 "MnDOT's $120 million I-35E MnPASS Express Lanes marked a first-of-a-kind lane approach to having HOT lanes through an interchange commons area to keep traffic moving and increase safety for all motorists. Through the I-35E/I-694 interchange, the northbound MnPASS designation drops for approximately three miles. In the southbound direction, an existing general purpose lane is converted to a MnPASS lane through the commons area. The hybrid concept was introduced to community stakeholders and corridor users for feedback before it was adopted. The low cost/high benefit configuration was a result of a Federal Value Pricing Pilot Program based on the potential to use existing infrastructure more efficiently and facilitated greater transit carpool and vanpool use on the corridor. Now commuters enjoy greater choice in their transportation decisions and have greater control in their trips."
Operations Excellence
Iowa DOT's Council Bluffs Interstate System Rail Relocation project won in the small category.
Twenty-five percent of all trains between the eastern and western United States pass through the Midwest railroad gateway in Council Bluffs, Iowa. With nine railroad main lines of five major railroads converging at Council Bluffs, it is a city with a street grid congested by seemingly endless railroad grade crossings. Iowa DOT's $23 million railroad consolidation project eliminated nine at-grade roadway-railroad crossings, improved traffic at major interchanges, and provided for future capacity expansion of the rail lines. In all, the project greatly improved safety for pedestrians and motorists alike while preparing for growth in the future, benefiting the economy and cutting long-term costs. Additionally, the project was completed months ahead of schedule and $2 million under the projected cost.
Kansas DOT's K-10 South Lawrence Trafficway East Leg Project won in the medium category.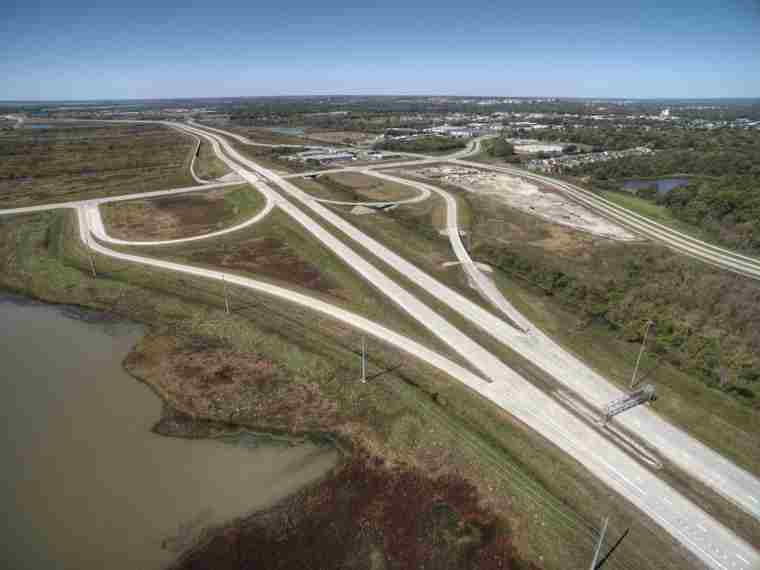 KDOT's $140 million K-10 South Lawrence Trafficway East Leg is a valuable regional corridor connection allowing travelers to move freely from the Kansas City Metro Area to and from Lawrence and beyond to Topeka. The completed freeway has improved congestion on local roads and balanced the needs of highway users with preservation and expansion of the Baker Wetlands, while providing an estimated $3.7 billion economic benefit for Kansas. The project included construction of a new four-lane, six-mile freeway around the east side of Lawrence, connecting the existing K-10 two-lane West Leg with the four-lane on far east edge of Lawrence. Construction work included 24 bridges, 29.4 highway lane miles, 16.3 miles of local roads, and three new interchanges. Completion of the K-10 SLT represents the final piece in an otherwise efficient transportation system serving the northeast Kansas region, and an important step toward improving safety, reducing congestion and supporting regional industry.
Two projects tied and were named winners in the large category—Indiana DOT's U.S. 31 Hamilton County Project and Kansas DOT's Johnson County Gateway Project.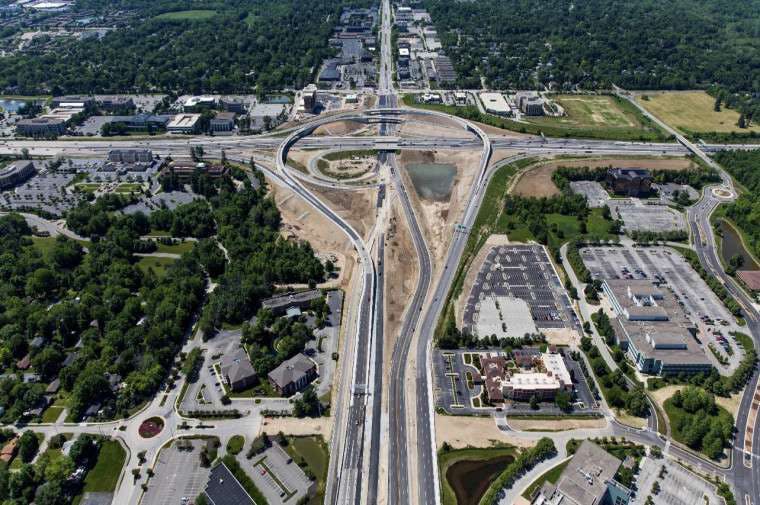 InDOT's $350 million U.S. 31 Hamilton County project, the most expensive transportation project to ever take place in the county, upgraded the existing highway to federal standards, which included upgrading 13 miles of highway, building 49 new bridges and 12 interchanges, and removing 13 stoplights in the area. This was all done to save drivers travel time, ease congestion, increase safety and provide easier travel for motorists and freight. Though construction began in 2011, InDOT spent years prior communicating with local businesses throughout the corridor to prepare them through open houses and stakeholder group presentations. InDOT also kept the public informed through e-newsletters, social media, real-time construction updates, and a text messaging service.
KDOT's $288 million Johnson County Gateway Phase 2 Project is Kansas's first and largest design-build transportation project completed in just 2.5 years. The I-435/I-35/K-10 interchange area is a significant transportation hub and economic engine for the region and the state. It is also one of the most congested interchanges in Kansas. The constructed improvements address more than 90 percent of the existing traffic problems in the project area. The Johnson County Gateway Project included reconstruction and capacity improvements within the I-435, I-35 and K-10 interchange area along with improvements at several major local interchanges. A total of 56 new lane miles were added within the interchange area. KDOT made sure to minimize impact to divers during this construction and ultimately delivered a project that cut congestion for drivers (reducing commuting headaches) months ahead of schedule.
The winners from the one remaining region will be announced later this summer. The top 12 projects, which will be made up of the three highest-scoring projects from each region, will compete for the Grand Prize, selected by judges, and the People's Choice Award, selected by online voting. These winners will receive $10,000 to be donated to a charity or scholarship of the winner's choosing. The winners will be announced at AASHTO's annual meeting in September.