Five states representing eight projects received honors for top transportation projects as western regional winners for the America's Transportation Awards. The awards were presented during the Western Association of State Highway and Transportation Officials annual meeting.
The American Association of State Highway and Transportation Officials (AASHTO), the AAA motor club and the U.S. Chamber of Commerce sponsor the America's Transportation Awards program, which honors the best transportation projects in the categories of Quality of Life/Community Development, Best Use of Technology and Innovation and Operations Excellence. This is the tenth year of the program.
"Every project nominated in this competition represents the hard work and dedication of state DOTs across the country to meet the transportation needs of the communities we serve," says David Bernhardt, AASHTO president and commissioner of the Maine Department of Transportation. "For 10 consecutive years, the America's Transportation Awards have given state DOTs the recognition they deserve for providing the essential connections that keep people, goods, and our economy moving forward."
Thirty project nominations from 12 states were submitted for the western region this year. The winners include:
Quality of Life/Community Development
The Nevada DOT won in the small category (projects that cost under $25 million) for its Cave Rock Tunnel Extension and Stormwater Enhancements project.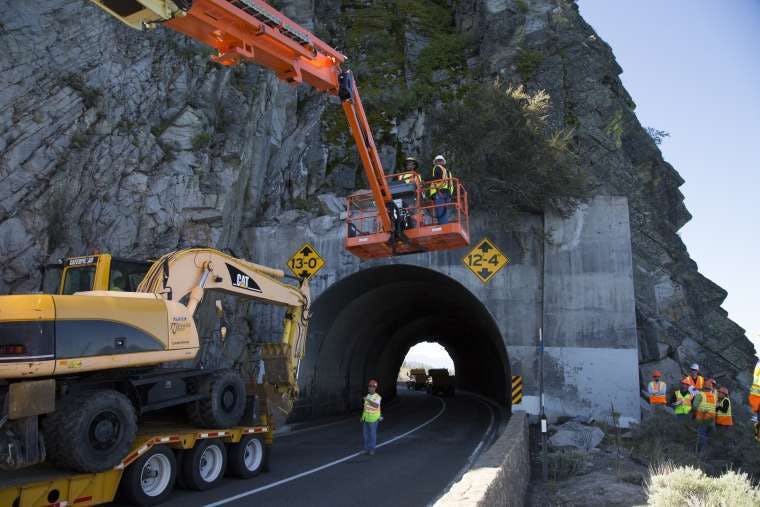 "After heavy rain loosened huge boulders from the face of the Cave Rock tunnels near Lake Tahoe, Nevada DOT sprang into action to keep motorists safe. For this $6 million project, NDOT constructed a tunnel extension with a flat top filled with sand, allowing any falling rocks to nest naturally in that sand instead of falling onto the roadway. While they were at it, the department also installed new tunnel lighting and automatic signs for the protection of bicyclists and other recreational travelers. Through the process, NDOT worked with the local planning agency to preserve the environment around Lake Tahoe and the Washoe Tribe to protect the sacred significance of Cave Rock."
The Montana DOT won in the medium category (projects costing between $25 million and $200 million) for its Kalispell Bypass-US 93 Alternate Route project.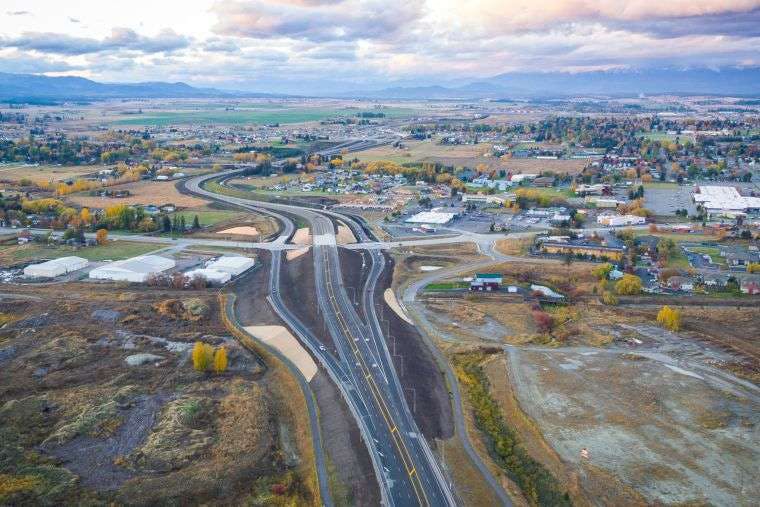 "After funding shortages and land acquisition difficulties that put the project on hold for years, MDT's Kalispell Bypass-US 93 Alternate Route opened to traffic in October 2016. This new alternate route around Kalispell, which serves as a gateway to Glacier National Park and other natural attractions in the area, has cut travel time by more than 15 minutes for drivers. In addition, this $140 million alternate route has increased safety for drivers and allowed for a much more pedestrian friendly Main Street."
Best Use of Technology and Innovation
The Idaho Transportation Department won in the small category for its U.S. 20 Thornton Interchange project.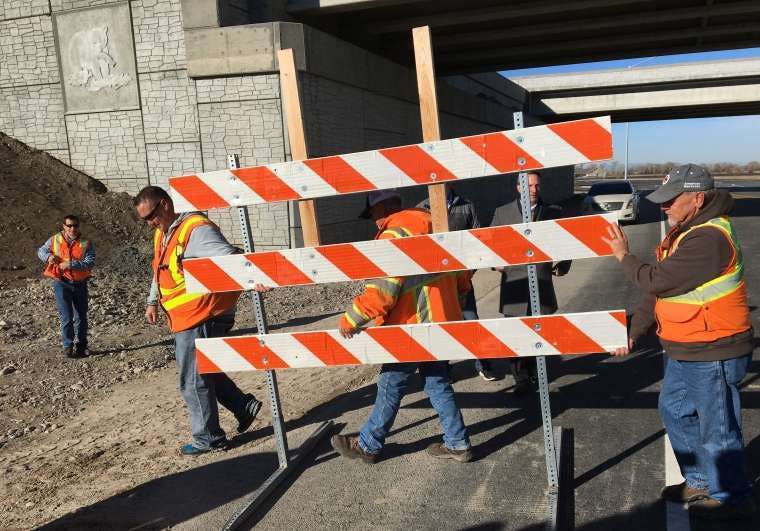 "Marking the culmination of more than a decade of safety improvements on U.S. 20, the new $11.2 million Thornton Interchange improves access management and traffic flow between Idaho Falls and Sugar City. This section of the 4-lane divided highway was prone to vehicle crashes because of its ground-level intersections. The Thornton Interchange was the last of 7 new interchanges on U.S. 20 to curb this problem. Despite a 115-percent increase in traffic in this area, these improvements have cut the rate of serious injury crashes by 75 percent and cut fatalities to less than one per year. The project utilized 3D modeling, used Automated Machine Guidance, and coordinated closely with the railroad and local utilities to save money and time."
The Colorado DOT won in the medium category for its SH 9 CO River South Wildlife and Safety project.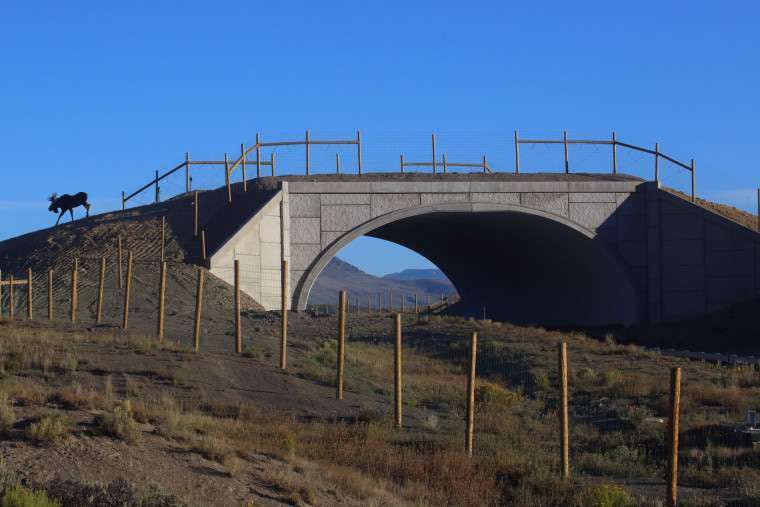 "In an effort to improve safety, CDOT built two wildlife overpasses—the first in the state—and five wildlife underpasses along a 10.6 mile stretch of Colorado Highway 9 to allow deer, elk, moose, bear and Rocky Mountain sheep to travel safely from one side of the highway to the other. This incredible $48 million partnership effort included some very unorthodox funding. Local residents contributed nearly 6 million dollars, which came from sources ranging from large personal donations to small bake sale proceeds. The project came in ahead of schedule, under budget and most of all, has made the highway much safer for drivers and animals alike."
The Colorado DOT also won in the large category (projects costing more than $200 million) for its US 36 Express Lanes project.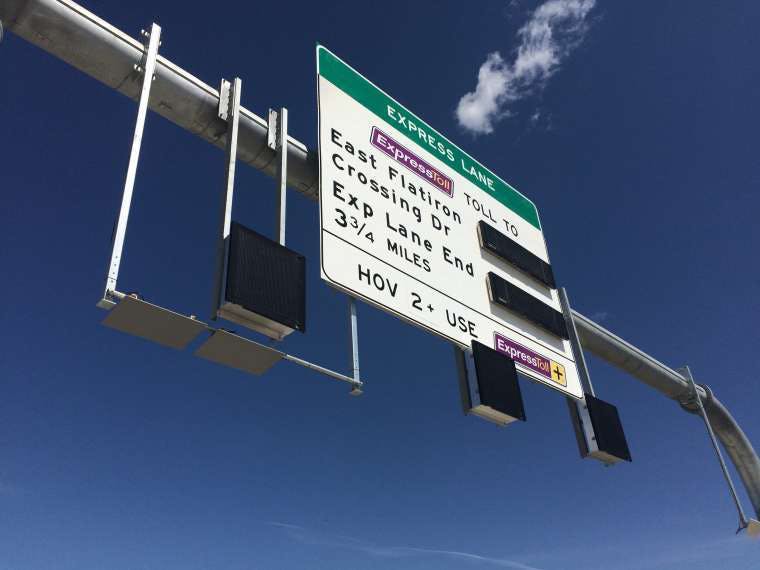 "To accommodate traffic in one of the fastest-growing areas in Colorado, CDOT tackled this $487 million multimodal project that included building an Express Lane in each direction of US 36, replacing eight bridges and widening five others, building a commuter bikeway, added BRT improvements, installing an Active Traffic Management system, and installing Intelligent Transportation Systems for tolling, traveler information, and incident management. Travelers in this area now enjoy a faster, safer ride to their destinations, whether it be by car or bike."
Operations Excellence
The Idaho Transportation Department won in the small category for its Elk City Slide Cleanup.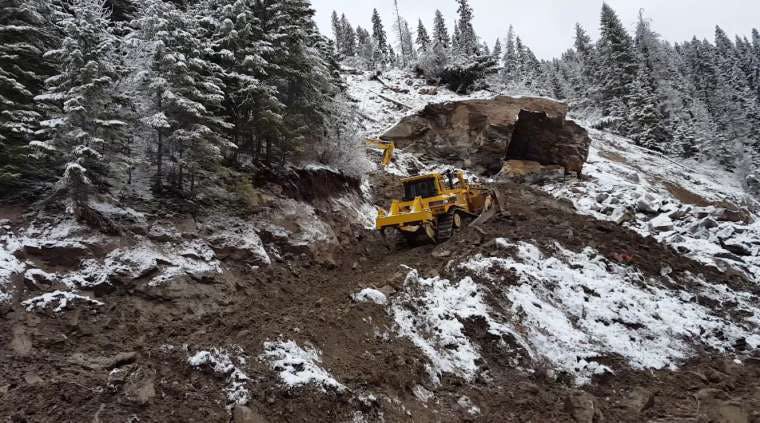 "The 2016 Elk City landslide unleashed 47 million pounds of mud, rock and debris on the Idaho 14, cutting off access in and out of a remote Idaho town, threatening all residents. ITD employees from all over the state came to help in the cleanup effort. The original slide loosened more than one hundred thousand cubic yards of dirt, rock and debris, 20 feet deep in places. Two months later, a second slide brought down more material and pushed what was already loose debris even closer to the highway. In all, the cleanup took about six months and cost about $3.5 million, but ultimately made residents safer through more reliable access in and out of the area."
The Colorado DOT won in the medium category for its I-70 Mountain Express Lane project.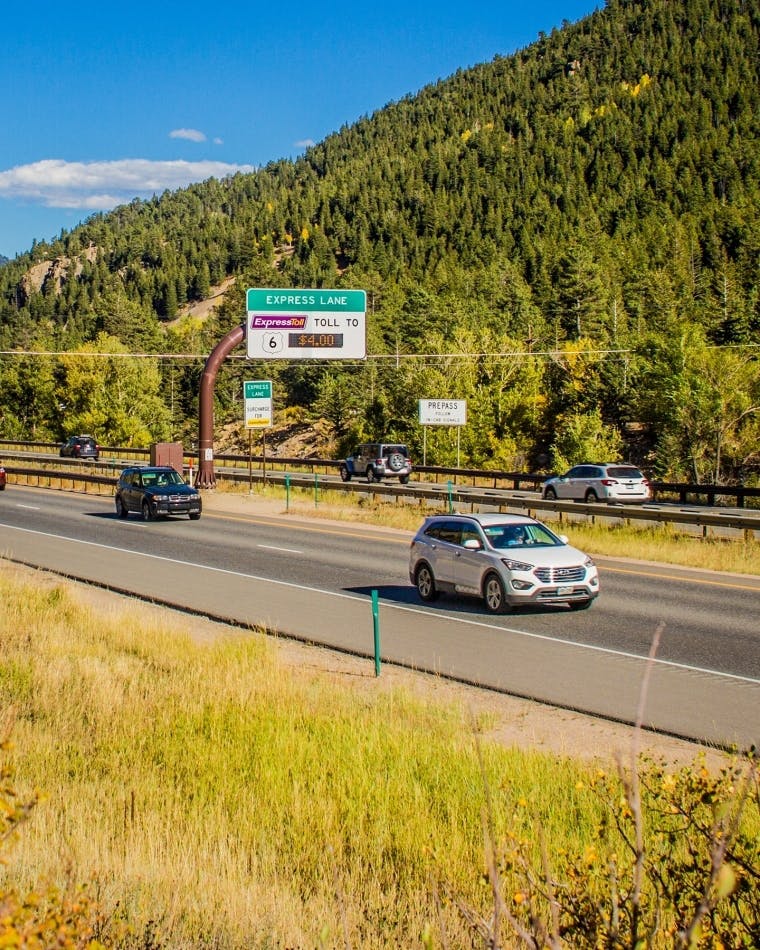 "The I-70 mountain corridor is the only east-west interstate and primary access route from Denver to the mountains. The segment of the corridor that runs from Empire Junction to the Twin Tunnels at Idaho Springs is one of the most heavily populated areas of Clear Creek County—and one of the narrowest sections of the corridor. To combat severe traffic delays during peak periods for eastbound traffic, CDOT created an express lane on existing right-of-way by allowing traffic to use the shoulder only during peak periods. The shoulder lane is open only to drivers willing to pay a toll (which is determined through Active Traffic Management and Dynamic Pricing). The project also included the design and reconstruction of two bridges, a roundabout, bike and pedestrian facility improvements, and retaining walls to limit impacts to fishing and rafting along Clear Creek. Since completion, the project has reduced the impacts of heavy traffic on businesses and residences in the mountain communities. The new lane, which cost $72 million, captured 8 percent of traffic in its first summer season and cut travel time for drivers by 40 percent in the general purpose lanes."
The Texas DOT (TxDOT) won in the large category for its SH 99/Grand Parkway Segments F&G project.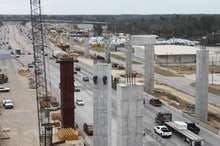 "Part of TxDOT's proposed 184-mile Grand Parkway around the greater Houston area (spanning seven counties), Segments F1, F2 and G consist of 38.4 contiguous miles delivered as a single design-build project that opened to traffic last March. That design-build concept unified the flow of work for faster delivery, lower costs and better design. The billion dollar project was also a public-private partnership, which streamlined coordination at the federal, state and local levels. These segments enhanced mobility and economic growth for the area, made residents and travelers more safe through the addition of hurricane and emergency evacuation routes for Houston residents, added much-needed capacity to alleviate traffic problems caused by population growth, and allowed for faster and safer travel altogether."
The winners from the three other regions will be announced at various times this summer. The top 12 projects, which will be made up of the three highest-scoring projects from each region, will compete for the Grand Prize, selected by judges, and the People's Choice Award, selected by online voting. These winners will receive $10,000 to be donated to a charity or scholarship of the winner's choosing. The winners will be announced at AASHTO's annual meeting in September.