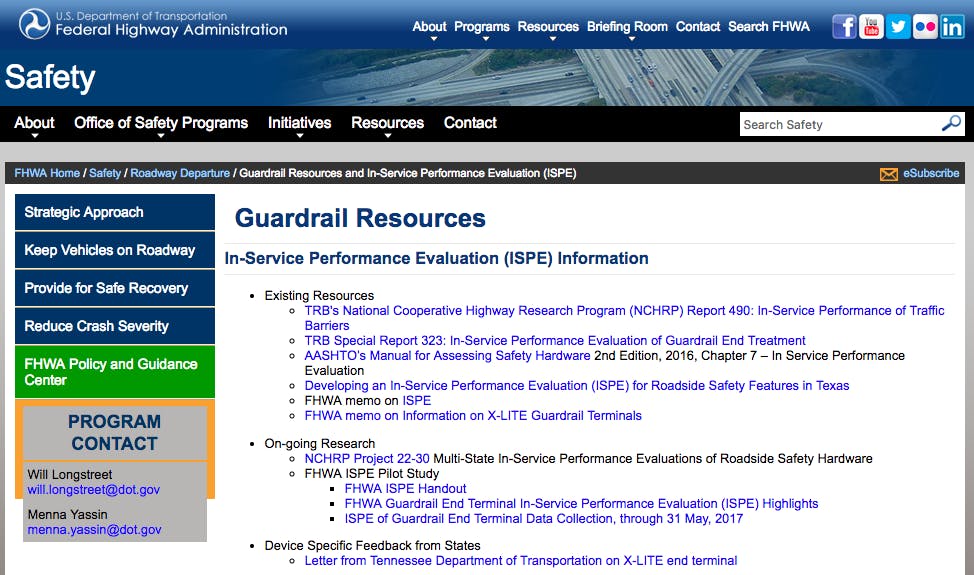 The Federal Highway Administration (FHWA) has launched a microsite aimed at serving as a central resource for details about roadside safety hardware such as guardrails.
"Safety is our top priority and enhanced data will improve road safety," says Acting Deputy Federal Highway Administrator Butch Waidelich. "Our goal is to provide state DOTs with information they can use to make the right decisions for their states."
The agency says the site will allow state DOTs to share data about in-service performance of roadside hardware by "hosting an ever-expanding collection of findings from the states in response to interest about performance guardrail terminals."
The site will focus on FHWA's In-Service Performance Evaluation pilot, which is searching for better ways to collect in-service performance data of roadside hardware. This effort began in 2015 and will continue through 2019 and is being conducted jointly with California, Massachusetts, Missouri and Pennsylvania. FHWA reports the site will also serve as the "foundation of a publicly accessible database about guardrails used along America's highways."
Waidelich also says federal officials recognize the lack of state-based information on roadside hardware, and that the ISPE will improve roadway safety by making it easier for states to uniformly collect performance data on guardrails.
The new roadside safety hardware site is available here.