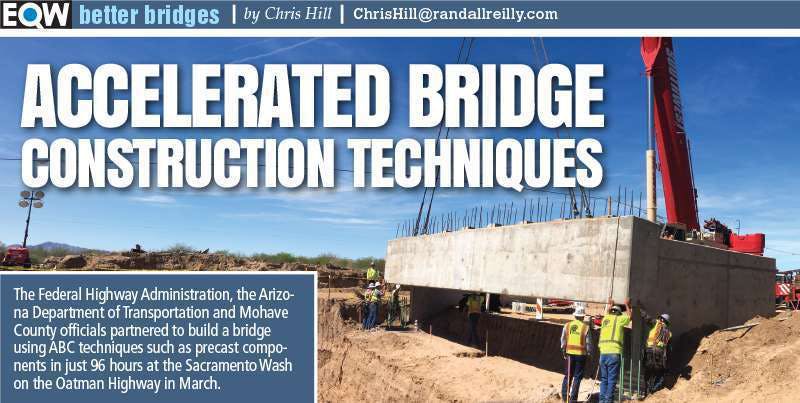 Recently, all eyes were on Atlanta as the Georgia Department of Transportation (GDOT) and its contractor C.W. Matthews worked around the clock to reconstruct a fire-damaged Interstate 85 span. With a total of $3.1 million in incentives on the line to get the project completed by May 21st, GDOT's handling of I-85 promises to be a case study in the art of accelerated bridge construction (ABC) techniques.
That section of interstate, which reopened well ahead of schedule on May 13, has at least 250,000 vehicles traveling on it daily and is a major artery in and out of the city. On any given day, a minor accident in any spot along this route can cause delays and then mushroom to side streets and alternate roads commuters use to circumvent the backup. Removing an entire section of that interstate creates the potential for chaos.
A fire that was reportedly started underneath the bridge burned construction materials, including high-density polyethylene piping, weakening the substructure enough that the deck collapsed. Roughly 350 feet of interstate both north and south are being replaced, along with 61 steel beams and 13 columns.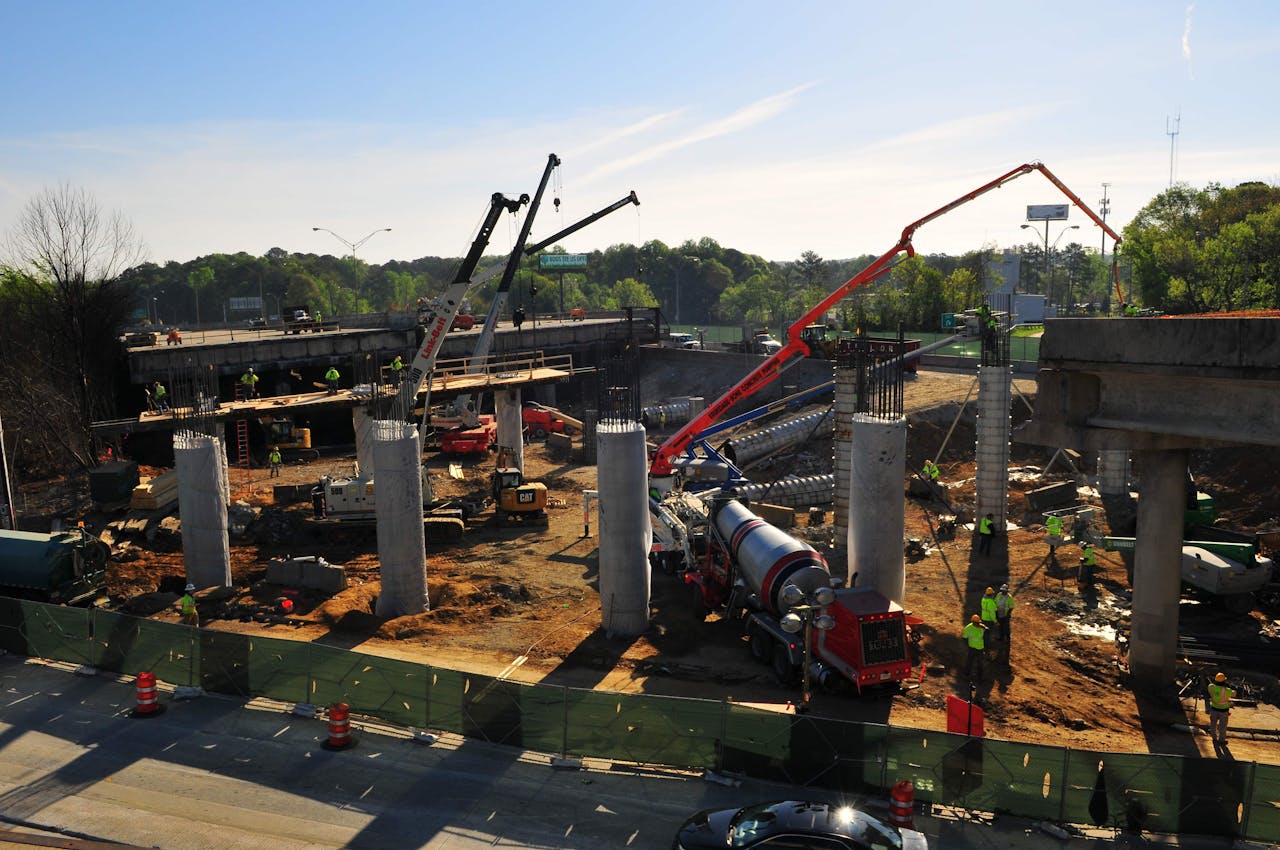 Made for such a scenario
ABC techniques represent a broad classification of methods and management systems designed to build, reconstruct or rehabilitate a bridge as fast as possible.
The American Society of Civil Engineers said in its 2017 Infrastructure Report Card the use of ABCs is one of the saving graces for the nation's bridges, despite the overall U.S. bridge system receiving a C+ grade. The group reported that techniques such as prefab bridge components and the use of improved materials are helping to reduce construction time to minimize traffic disruptions.
On the management side, the acceleration of a bridge job comes in the form of a design-build contract. By combining the design and construction into one contract, agencies can cut construction time and lower project costs. Contractors that either have design engineers on staff, or who partner with design firms, have the edge in taking on large ABC jobs.
This front-end approach is transparent to the traveling public, which is focused on getting its bridge, and getting it now.
GDOT takes center stage
The I-85 bridge collapse required immediate response. "Within minutes of learning about the incident, we all started to communicate and move into the site," says GDOT State Bridge Engineer Bill DuVall. Staffers on site gathered as much information as possible to determine their first steps.
"We were also contacting our employees that we needed to bring in the office as well, so we could start preparing for whatever was going to come out of the incident," he adds. "We had to go pull our resources in, pull what information we had on the structure itself, communicate with the field to find out where the damage was localized to."
One big challenge for GDOT was the steel beams. Ideally, the agency would have just used the same design for the beams and simply ordered replacements. However, the bridge was built in 1953 and then updated in 1985, and the beams were of an older design and not used in the department's current specs. Plus, it would have taken too long for the new beams to be fabricated.
So GDOT's bridge engineers had to incorporate the current beam design with the other elements of the existing deck and column designs. About 24 hours after the collapse, the agency sent the redesigned beam plans to the contractor and the beam fabricator to start making the beams.
The bridge design team, made up of 15 to 20 engineers, worked the next two days over a weekend to develop plans for the entire bridge replacement.
To hasten the project even more, the agency decided to use 24-hour accelerated curing concrete, according to GDOT Chief Engineer Meg Pirkle. "This is a very expensive product and is not something we typically use in all of our projects, but this will expedite the construction progress," she says.
Some of the initial costs were offset by $10 million in emergency relief funds from the Federal Highway Administration. That federal help, along with a disaster declaration issued by Georgia Gov. Nathan Deal, gave GDOT the green light to speed things even more, as the agency did not have to follow the normal process of environmental review, and it was completing a reconstruction within an existing structural footprint.
"What that has afforded us is the ability to do concurrent design work and piecemeal that information out to our contractor in a method that accelerates work," says GDOT Director of Construction Marc Mastronardi. "Otherwise, the conventional approach was to complete a full set of plans, advertise that for some period of time, receive bids, analyze those bids and award them to the lowest reliable bidder. We feel this greatly accelerated the activities and could not have occurred without the cooperation of our federal highway partners."
Upon the original design, GDOT announced the project would be completed by June 15, but to compress the deadlines further, the agency offered incentives to C.W. Matthews to complete the project this month. The agency offered an additional $1.5 million if the work was completed May 25, an additional $2 million for May 21, and an additional $200,000 for each day completed before May 21, with a maximum amount of $3.1 million.
DOTs push progress
State departments of transportation across the country have been working in recent years on their ABC techniques. Many of these efforts have centered on building superstructure components in temporary staging areas next to the bridge being replaced.
The Rhode Island Department of Transportation, for example, replaced two bridges last September, the East Shore Expressway Bridge and the McCormick Quarry Bridge, using this slide-in method. Each was completed in an 80-hour period in which the roadways were closed, mostly during weekends to limit traffic impact.
These moves, along with other work that did not impede traffic, cut construction time by about a year.
And Atlanta commuters will be glad to know GDOT has a long ABC resume. The agency has worked for a decade to develop multiple ABC techniques to boost bridge construction.
DuVall says that in 2005 the agency first used Exodermic panels – also known as composite, unfilled steel grid panels – to rapidly replace decks on two bridges on Atlanta's I-285. During construction over a series of weekends, the contractor only closed lanes, rather than the entire section of interstate, to keep traffic open.
"This is not uncommon. It's been used around the country, but this was our first use," DuVall says. "Since then, we've used it in a few other places around the state as well. That really proved that doing the construction with the traffic could be a real benefit to the state."
Last summer, GDOT replaced a bridge on S.R. 211 about 50 miles northeast of Atlanta using full-depth precast deck panels with ultra-high performance concrete (UHPC) closure pours. This was the first time time the agency used UHPC in these connections, and its success led GDOT to add it to other projects in design to help accelerate those bridges.
The project required only 60 days of road closure, with actual work on the structure lasting just 41 days.
"Sixty days was a huge win for us," DuVall says. "It's not just proving it to ourselves and to the contractor you can do it quicker, but it's also proving it to our field people. We had to convince them this is something we can do."
Duvall says knowing the total working-days figure will help planning for similar projects.
"If I know I've got a similar bridge, I'm not going longer than 40 days, and honestly if we really want to get it done quicker, we just need to tell the contractor to reduce the time," he says. "It should be that simple."
Determining savings on the S.R. 211 project was more complex, Duvall explains. For a single span bridge in Georgia, replacing just the bridge costs about $100 per square foot.
For a direct comparison, he looked at a conventional project similar to the S.R. 211 structure and found a cost of about $170 per square foot. The actual cost for the S.R. 211 project was $218 per square foot.
"If you look at that 28-percent increase to get this thing done in two months – that's huge," he says. "But when I compared the projects one-to-one, the first project including an overall roadway, all the roadway costs were about $2.64 million. The S.R. 211 project was let at a bid amount of $2.68 million. So in this case, comparing the two projects there was only a 1.4-percent difference. That's a shock to me. I was pretty pleased with that."