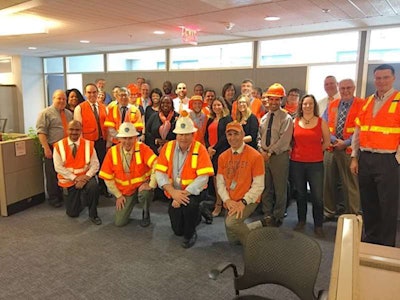 Representatives from the U.S. Department of Transportation and Department of Labor and Maryland Department of Transportation (MDOT) on April 4 officially launched National Work Zone Awareness Week (NWZAW) at the active Georgia Avenue/Randolph Road interchange construction site in Silver Spring, Maryland.
"For Maryland's roadway workers, the construction zone is their office, and everyone deserves to be safe in their workplace," says Maryland Transportation Secretary Pete K. Rahn. "Remember to park the phone and slow down in work zones."
The NWZAW, this year occurring April 3-7, was created in 1999 as a means of highlighting hazards for both workers and motorists in road construction zones. MDOT is one of three state DOTs that make up the NWZAW executive committee.
The annual Go Orange Day was April 5. State DOTs and various roadway safety professionals across the country wore orange to show their support for work zone safety. Officials were encouraged to post photos of staff members wearing orange to social media platforms using the hashtag #Orange4Safety.
In recent years it is estimated that 700 people die in work zone crashes per year. In 2015, 130 road workers were killed while on the job.
"The people who work on roadways are mothers, fathers, sons, daughters, sisters and brothers, and they deserve to get home to their families," says Maryland State Highway Administrator Gregory Slater.  "We're featuring our own employees in outreach materials, to show the real people behind the barrels. Their safety is in your hands."
More details on the NWZAW program and work zone safety data and materials are available at workzonesafety.org. Next year, the Illinois Department of Transportation will host the launch for the awareness campaign.