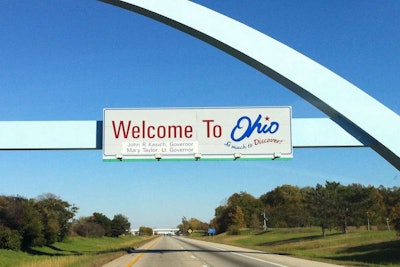 In kicking off its road construction season, the Ohio Department of Transportation (ODOT) is touting its plan to invest $2.3 billion in bridge and road improvements in 2017, a figure close to the record investments of $2.4 billion in the two previous years.
"Since Gov. John Kasich took office, we have invested an unprecedented $14 billion in Ohio's infrastructure," says ODOT Director Jerry Wray. "Our transportation network is Ohio's greatest man-made asset, and it is our duty to ensure it is in the best condition possible. That's why 93 cents of every dollar we're spending on roads and bridges this year will go to preservation."
ODOT reports this construction season has scheduled 1,098 projects, with 26 having a value of more than $10 million, and 6,945 miles of roadway to be paved. Ninety-one safety projects also are planned, including reconfigured intersections and additional signage and signals.
"We have seen an increase in the number of traffic deaths in Ohio over the last three years, and we are working hard to reverse this disturbing trend," Wray says. ODOT reports there were 6,041 crashes in work zones last year, including 28 deathers, 186 serious injuries and 810 minor injuries.