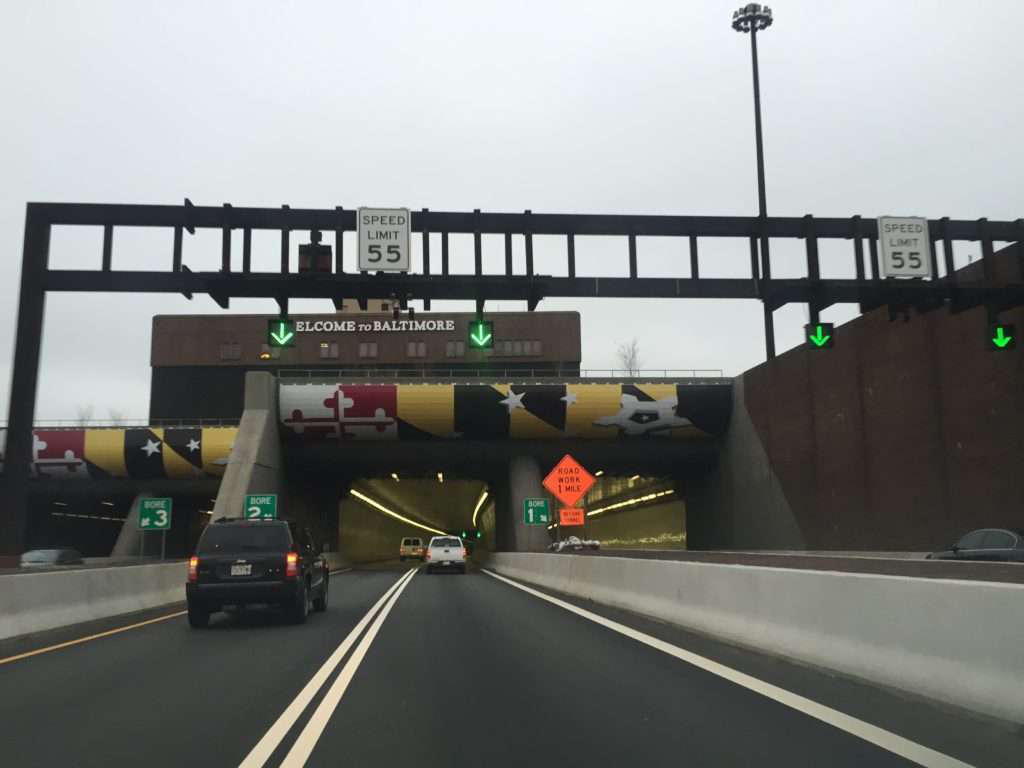 The Maryland Department of Transportation (MDOT) recently won 17 Maryland Quality Initiative (MdQI) Consortium Awards of Excellence for "planning studies, programs and construction projects" for 2016.
The MdQI is made up of private sector industry associations and public sector transportation agencies. It was founded in 1993 by MDOT's State Highway Administration (SHA) and private sector representatives. Its mission and activities include other MDOT transportation business units, the Federal Highway Administration, local government transportation agencies and industry associations.
MDOT was recognized with multiple awards for two projects completed last year. These included the Dual Steel Bridges on U.S. 13 over the Pocomoke River by the State Highway Administration and the deck rehabilitation and joint modifications of bridges on Interstate 95 south of the Fort McHenry Tunnel by the Maryland Transportation Authority.
"I am very proud of the MDOT professionals who develop, operate and maintain one of the best transportation networks in the world," says Maryland Transportation Secretary Pete K. Rahn.
The MdQI awards presented this year include:
MdQI Planning Award
Winner: Baltimore Washington International (BWI) Thurgood Marshall Airport, Concourse D Art Competition
Agency: MDOT Maryland Aviation Administration (MAA)
Scope: Competition for Artwork in Concourse D
Program Cost: $400,000
Location: BWI Thurgood Marshall Airport, Anne Arundel County
Firms: Airport Design Consultants, Inc. – Ellicott City, MD
MdQI MBE/WBE (Minority/Women Business Enterprise) Construction Award
Winner: Deck Rehabilitation and Joint Modifications of Bridges on I-95 South of the Fort McHenry Tunnel
Agency: MDOT Maryland Transportation Authority (MDTA)
Scope: Deck Rehabilitation and Joint Modifications
Bid Cost: $51 million
Location: I-95 in Baltimore City
Firms:  Wagman Heavy Civil, Inc. – York, PA and Wallace Montgomery – Hunt Valley, MD
MdQI MBE/DBE Design Award
Winner: BWI Thurgood Marshall Runway Safety Area, Pavement Management and Standards Compliance Program
Agency: MDOT MAA
Scope: Runway Safety Area, Pavement Management and Standards Compliance Program
Program Cost: $350 million
Location: BWI Thurgood Marshall Airport
Firm:  Airport Design Consultants, Inc. – Ellicott City, MD
MDQI Subcontractor Award
Winner: Deck Rehabilitation and Joint Modifications of Bridges on I-95 South of the Fort McHenry Tunnel
Agency: MDOT MDTA
Scope: Deck Rehabilitation and Joint Modifications
Bid Cost: $51 million
Location: I-95 in Baltimore City
Subcontractor Firm:  Sunrise Safety Services – Glen Burnie, MD
MdQI Green/Sustainability/Environmental Award
Winner: Conowingo Elementary School – Environmental Site Design
Agency: County Association Engineers of Maryland (CEAM) and Cecil County
Scope: Environmental Site Design
Study Cost: $306,000
Location: Rowlandsville Road, Cecil County
Firms: AECOM – Aberdeen Proving Ground, MD; Swan Creek Landscaping, Inc. – Perryville, MD; and Mark T. Hudson Landscaping & Excavating, LLC – Elkton, MD
MdQI Partnering in Construction – Gold Award
Winner: Deck Rehabilitation and Joint Modifications of Bridges on I-95 South of the Fort McHenry Tunnel
Agency: MDOT MDTA
Scope: Deck Rehabilitation and Joint Modifications
Bid Cost: $51 million
County: Baltimore City
Firms:  Wagman Heavy Civil, Inc. – York, PA and Wallace Montgomery – Hunt Valley, MD
MdQI Partnering in Construction – Silver Award
Winner: Dual Steel Bridges on US 13 over the Pocomoke River
Agency: MDOT State Highway Administration (SHA)
Scope: Bridge Construction
Bid Cost: $16 million
Location: Pocomoke River at the Somerset County / Worcester County line
Firms: JMT – Sparks Glencoe, MD and FAY, Inc. – Glen Burnie, MD
MdQI Partnering in Construction – Bronze Award
Winner: US 1 / Ammendale Road Intersection
Agency: MDOT SHA
Scope: Drainage Improvements
Study Cost/Bid Cost: $10 million
Location: Prince George's County
Firms: Concrete General, Inc. – Gaithersburg, MD
MdQI County Engineers Association of Maryland Award: Project under $5 Million
Winner: Renovation of Jericho Road Covered bridge over Little Gunpowder Falls
Agency: CEAM and Baltimore County
Scope: Historic Bridge Renovation
Study Cost/Bid Cost: $1.8 million
Location: Jericho Road over Little Gunpowder Falls at the Baltimore County/Harford County line
Firms: Wallace Montgomery – Hunt Valley, MD and Kinsley Construction, Inc. – Lutherville-Timonium, MD
MdQI Maryland Transportation Authority Award: Project under $5 Million
Winner: Structural Repairs to I-95 Bridges north of the Fort McHenry Tunnel
Agency: MDOT MDTA
Scope: Structural Repairs
Study Cost/Bid Cost: $500,000
Location: I-95 in Baltimore City, MD
Firms: RK&K and The Marksmen Company, both of Baltimore, MD
MdQI Maryland Aviation Administration Award: Project under $5 Million
Winner: Near Term Federal Inspection Services (FIS) Improvements
Agency: MDOT MAA
Scope: Inspection Services at BWI Thurgood Marshall Airport
Program Cost: $1.6M
Location: Baltimore Washington International Thurgood Marshall Airport
Firms: JMT – Sparks, MD; Airport Design Consultants – Ellicott City, MD;
Parsons Infrastructure – Baltimore, MD; Baltimore Contractors – Glen Burnie, MD
MdQI Maryland Port Administration Award under $5 Million
Winner: Dundalk Marine Terminal – Lot 304 Drainage Improvements
Agency: MDOT Maryland Port Administration (MPA)
Scope: Dundalk Marine Terminal – Lot 304 Drainage Improvements
Project Cost: $4 million
Location: Helen Delich Bentley Port of Baltimore in Baltimore City
Firms: WBCM – Towson, MD; Marine Technologies – Baltimore, MD
MdQI Maryland Transit Administration Award: Project under $5 Million
Winner: Grade Crossing Replacements on Seaford Freight Line
Agency: MDOT Maryland Transit Administration (MTA)
Scope: Railroad Grade Crossing Replacements
Study Cost/Bid Cost: $850,000
Location: Freight Rail Line in Caroline County
Firms: AECOM – Baltimore, MD; STV, Inc. – Windsor Mill, MD; and Bullock Construction – Easton, MD
MdQI Maryland State Highway Administration Award: Project under $5 Million
Winner: MD 129 (Park Heights Avenue) Bridge over I-695 (Baltimore Beltway)
Agency: MDOT SHA
Scope: Rehabilitate MD 129 Bridge over I-695
Project Bid Cost: $5 million
Location: MD 129 in Baltimore County
Firm: Martins Construction Corporation – Falls Church, VA
MdQI Baltimore City Department of Transportation Award: City Project over $5 Million
Winner: Roland Avenue and Northern Parkway Improvements
Agency: BCDOT
Scope: Roadway Improvements
Project Bid Cost: $3.9 million
Location: Roland Avenue and Northern Parkway in Baltimore City
Firms: Sabra Wang and Associates – Columbia, MD; M. Luis Construction Company – Baltimore, MD
MdQI County Engineers Association of Maryland Award: County Project over $5 Million
Winner: Piscataway Hills Landslide Stabilization
Agency: CEAM and Prince George's County
Scope: Landslide stabilization
Project Bid Cost: $8.5 million
Location: County: Piscataway Hills in Prince George's County
Firms: KCI Technologies – Sparks, MD; Corman Construction – Annapolis Junction, MD
MdQI Maryland Transportation Authority Award: Project over $5 Million
Winner: Deck Rehabilitation and Joint Modifications of Bridges on I-95 South of the Fort McHenry Tunnel
Agency: MDOT MDTA
Scope: Deck Rehabilitation and Joint Modifications
Bid Cost: $51 million
Location: I-95 in Baltimore City
Firms: Wagman Heavy Civil, Inc. – York, PA and Wallace Montgomery – Hunt Valley, MD
MdQI Maryland Aviation Administration Award: Project over $5 Million
Winner: BWI Thurgood Marshall Runway Safety Area, Pavement Management and Standards Compliance Program
Agency: MDOT MAA
Scope: Runway Safety Area, Pavement Management and Standards
Compliance Program
Program Cost: $350 million
Location: BWI Thurgood Marshall Airport in Anne Arundel County
Firm: Airport Design Consultants, Inc. – Ellicott City, MD
MdQI Maryland Transit Administration Award: Project over $5 Million
Winner: Metro System – Interlockings Reconstruction Project for Reisterstown Plaza -West, Rogers Avenue-East, and Subway Portal Interlockings
Agency: MDOT MTA
Scope: Metro System from Park Circle neighborhood (Metro Tunnel Portal Interlocking) to Northwest Baltimore neighborhood
Project Bid Cost: $16.4 million
Location: Baltimore City
Firm: AECOM – Baltimore, MD
MdQI Maryland State Highway Administration Award: Project over $5 Million
Winner: Dual Steel Bridges on US 13 over the Pocomoke River
Agency: MDOT SHA
Scope: Bridge Construction
Bid Cost: $16 million
Location: Pocomoke River at the Somerset County / Worcester County line
Firms: JMT – Sparks Glencoe, MD and FAY, Inc. – Glen Burnie, MD
MdQI Project of the Year under $5 Million
Winner: Renovation of Jericho Road Covered bridge over Little Gunpowder Falls
Agency: CEAM and Baltimore County
Scope: Historic Bridge Renovation
Study Cost/Bid Cost: $1.8 million
Location: Jericho Road over Little Gunpowder Falls at the Baltimore County / Harford County line
Firms: Wallace Montgomery – Hunt Valley, MD and Kinsley Construction, Inc. – Lutherville-Timonium, MD
MdQI Project of the Year over $5 Million
Winner: Deck Rehabilitation and Joint Modifications of Bridges on I-95 South of the Fort McHenry Tunnel
Agency: MDOT MDTA
Scope: Deck Rehabilitation and Joint Modifications
Bid Cost: $51 million
Location: I-95 in Baltimore City
Firms: Wagman Heavy Civil, Inc. – York, PA and Wallace Montgomery – Hunt Valley, MD