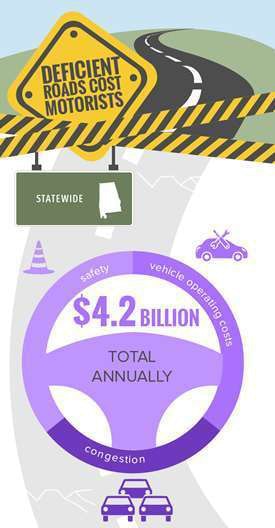 In its latest road condition report, The Road Improvement Program (TRIP) says poor road and bridge conditions in Alabama are costing drivers in the state $4.2 billion annually in costs related to vehicle operation, safety and congestion.
The report, "Alabama Transportation by the Numbers: Meeting the State's Need for Safe, Smooth and Efficient Mobility," indicates 19 percent of major urban roads are in poor condition in the state, with 8 percent of the bridges rated as structurally deficient. TRIP says total vehicle operating costs (VOC) for the state amount to $1.5 billion each year, followed by safety issue costs reaching $1.5 billion and congestion expenses at $1.2 billion.
Birmingham area drivers are seeing an average of $1,663 additional costs per year, followed by Mobile at $1,437, Huntsville at $1,325 and Montgomery at $1,296.
As will all TRIP reports, officials say these costs could be lessened if infrastructure funding was increased and made sustainable.
"The issue of investing in our state's infrastructure is about economic development, safety and quality of life for all citizens across Alabama," says Jim Page, chairman of the Alliance for Alabama's Infrastructure. "This is why the Alliance for Alabama's Infrastructure has and will continue to advocate for a fair and sustainable infrastructure proposal that provides adequate long-term funding dedicated solely for our roads and bridges."
TRIP periodically releases state and national reports such as this one. They are available at tripnet.org.