The Indiana Department of Transportation (INDOT) reports contractors are set to start March 6 on a $19.6 million project to rebuild six bridges on Interstate 65 over I-465 and Lick Creek on the south side of Indianapolis.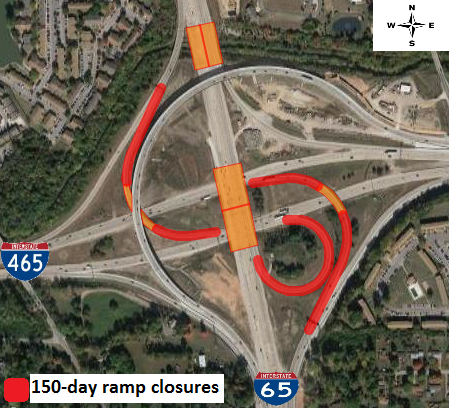 INDOT reports Superior Construction will start with placing temporary pavement by the right shoulder of northbound I-65 to provide space for traffic shifts. Beginning March 6, three lanes of northbound I-65 will be shifted toward the median.
Later in the week, two lanes of southbound I-65 and three lanes of northbound I-65 will be shifted to the right outside shoulders so crews can start removing sections of the center concrete wall.
Around March 11, two lanes of southbound I-65 will be shifted across the median to share the widened northbound side of the interstate. Temporary concrete barriers will separate opposing traffic.
Traffic during construction will involve multiple traffic lane shifts, median crossovers and ramp closures in phases. The northbound portion of I-65 will have three lanes open during construction, and southbound will have two lanes open. INDOT says lane closures will occur at the non-peak times of 9 p.m. to 6 a.m., and speed limits will be 55 mph in the work zone, then reduced to 45 mph when workers are present.
The agency also reports the southbound I-65 ramp to eastbound I-465 will close in late March/early April for up to 150 days. In the summer, both directions of the interstate will shift to the southbound side for northbound construction. At that point the northbound I-65 ramp to westbound I-465 and the eastbound 1-465 loop ramp to northbound I-65 will be closed.
INDOT expects bridge construction to be "substantially complete," including all lanes and ramps open to traffic, by the end of 2017.