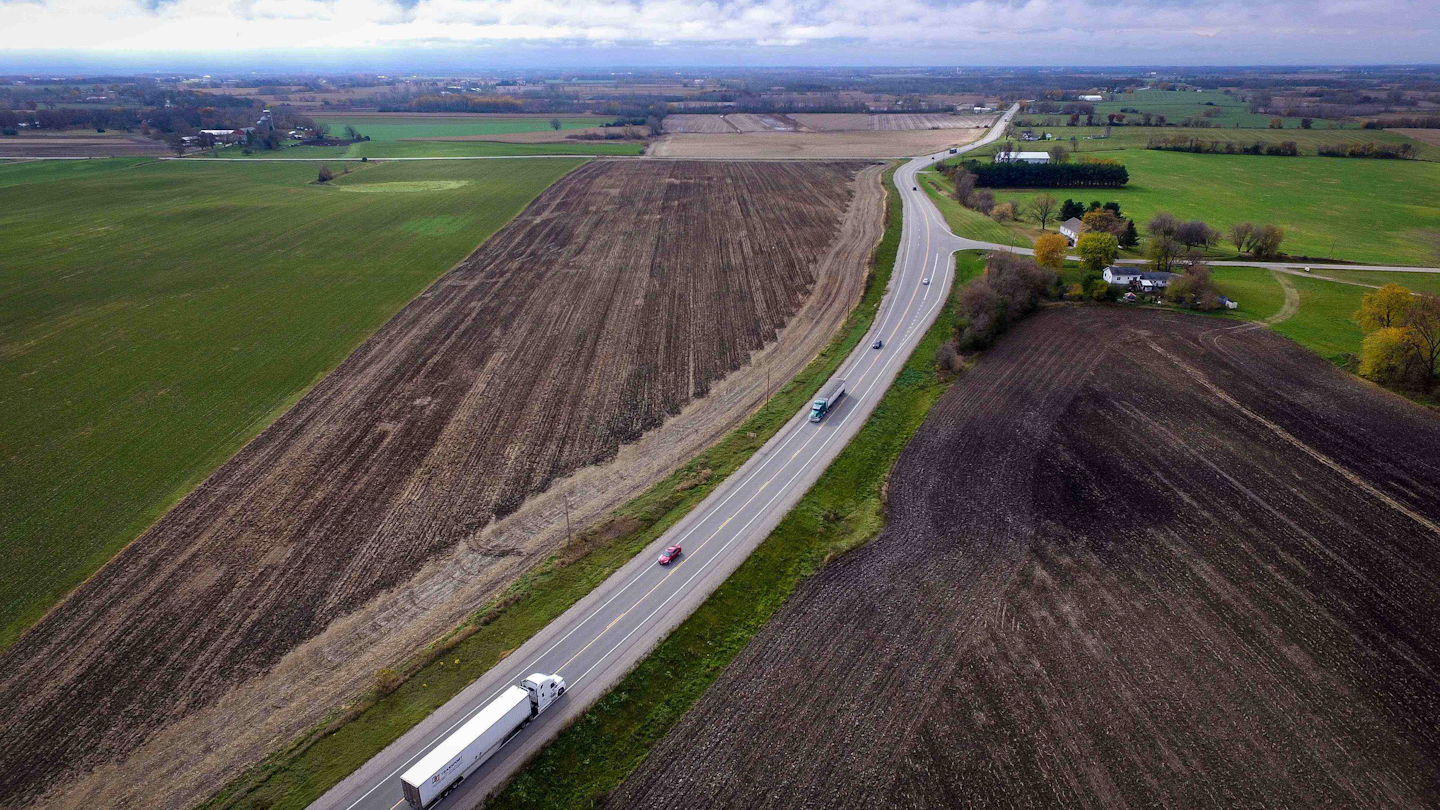 Northeast Asphalt Incorporated, based in Greenville, Wisconsin, and the Wisconsin Department of Transportation (WisDOT) Northeast Region have received the National Asphalt Pavement Association's (NAPA) 2016 Sheldon G. Hayes Award for "excellence in construction of asphalt pavement."
The award, given since 1971, was presented during NAPA's annual meeting in Orlando this week, and recognized the work of the company and agency on STH 26 in Rosendale, Wisconsin.
The project, which stretched 16 miles, involved road widenings, 12 intersection reshapings, 15 culvert crossings, a 2,500 linear-foot full realignment, a 2-inch mill and overlay and a 5 1/2-inch mill/pulverization and relay.
"Two pilot requirements were in place during the entire STH 26 project – a Quality Management Program (QMP) special provision for pulverize and relay base density and a high-recycle-content test section," says Chris Winiecki, area manager for Northeast Asphalt. "To be awarded the highest honor in asphalt paving is truly humbling. This is the result of exceptional collaboration between the Wisconsin Department of Transportation and industry in the design phase coupled with a high degree of skill and attention to detail by all the men and women involved in the field construction."
The QMP, which mandated compaction testing on pulverized material, and the irregularities listed above, created a unique set of challenges on a daily bases that required constant communication to meet density requirements and maintain production, according to NAPA.
"As a result of the fast-paced nature of the pulverization and relay, not to mention the fact that the paving operation was only fractions of a mile behind, it was crucial for all to work together to resolve problems in a timely manner," says Jake Brucker, project manager for Northeast Asphalt.
The project also involved a high-recycle hot mix asphalt pilot installed permanently in the southern portion of the project and on the lower and middle lifts. The mix design was put into full production to reach more 12,000 tons of high-recycle-content asphalt pavement mix.
That mix design, say Brett Williams, Northeast Asphalt corporate technical services manager, required more testing than a traditional hot-mix asphalt design. The testing included performance testing requirements for rutting, thermal cracking, fatigue, moisture susceptibility and binder recovery.
Finalists recognized
NAPA also recognized four finalists for the 2016 Sheldon G. Hayes Award. These include:
Knife River Materials Northern Minnesota and the Minnesota Department of Transportation – Thief River Falls for work on Pennington Marshall County Trunk Highway 32
Norris Asphalt Paving Company and the Iowa Department of Transportation for work on Highway 2 in Centerville, Iowa
Shelly & Sands Incorporated and the Ohio Department of Transportation for the I-77 project in Noble County, Ohio
Northeast Asphalt Inc. and the Wisconsin Department of Transportation for the U.S. Highway 141 Wausaukee to Beaver project in Crivitz, Wisconsin.
"All contractor's projects earning a Sheldon G. Hayes Award are measured against industry best practices, rated for smoothness a year after construction, and visually inspected to ensure the project lives up to our promise," says Kevin Kelly, NAPA 2016 chairman. "I'm honored to say that, in earning a 2016 Sheldon G. Hayes Award, Northeast Asphalt has exceeded these rigorous standards."
"The Sheldon G. Hayes Award winner and finalists are determined through a two-year evaluation process," NAPA says. "All highway pavement projects using more than 50,000 tons of asphalt are eligible for consideration. Initially, the project must win a Quality in Construction (QIC) Award, which is determined by numerical scores given by pavement engineers at the National Center for Asphalt Technology on the basis of how well the contractor met specifications and achieved density on the finished pavement. All the pavements that meet a benchmark figure earn the QIC Award."