The "inaugural class" of the American Road & Transportation Builders Association's (ARTBA) Safety Certification for Transportation Project Professionals (SCTPP) includes 55 transportation construction professionals from 11 states.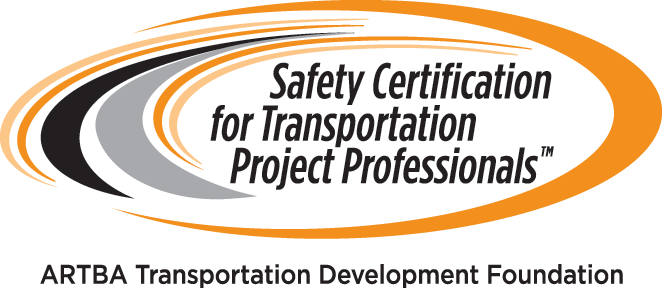 ARTBA launched the program in fall 2016 as a means of creating a safety benchmark for "future civil engineering and construction management program graduates who are interested in employment with industry leading firms." Certification is valid for three years
"Our goal is to help cause a demonstrable reduction in the number of deaths and injuries that occur on and around transportation project sites each year," ARTBA President Pete Ruane says. "We believe we can do that if all of the key decision makers, from project inception through completion, have safety top of mind. This program identifies and rewards those who have competency in this critical management area."
The exam for the program consists of up to 120 multiple-choice question covering knowledge about assessing project risks, creating safety plans, implementation and conducting on-going evaluation of a site-specific operational safety plan, and conducting incident investigations.
ARTBA says the program meets requirements for accreditation by the American National Standards Institute (ANSI) and the International Organization for Standardization ISO/IEC 17024: "Conformity Assessment: General Requirements for Bodies Operating Certification of Persons."
More information about the program is available at www.puttingsafetyfirst.org.
The list of "Safety Certified Transportation Project Professionals" includes:
Juan Abrigo, area safety manager, Austin Bridge & Road, L.P., Irving, Texas
Jes Allen, superintendent, Zachry Construction Corporation, Cornelius, North Carolina
David Asselin, safety director, Ranger Construction, Port St. Lucie, Florida
Tyler Bean, HSE regional manager, Allan Myers, Worcester, Pennsylvania
Trenton Beeler, safety manager, Austin Commercial, Sherman, Texas
Raymond Berrios, safety director, Ranger Construction, West Palm Beach, Florida
Josh Brown, HSE manager, Allan Myers, Williamsburg, Virginia
Travis Browning, field safety mgr., Superior Construction Company, Jacksonville, Florida
Dennis Burks, safety director, HNTB, Kansas City, Missouri
Ruben Canales, sr. safety mgr., Zachry Construction Corporation, Richmond, Texas
Javier Cano, safety coordinator, Zachry Construction Corp., San Antonio, Texas
Robert Clark, project manager, Superior Construction Company, Jacksonville, Florida
Sean Conard, fleet safety director, Allan Myers, Williamsburg, Virginia
Brian Connolly, regional equipment mgr., Superior Construction Co., Frankfort, Illinois
David Cope, environmental manager, Austin Bridge & Road, L.P., Rockwall, Texas
Russell Emmett, safety training consultant, E&J Consulting, Upper Marlboro, Maryland
John Farrell, regional HSE manager, Allan Myers, Pottstown, Pennsylvania
Colin Faulkner, safety director, ATS Construction, Lexington, Kentucky
William French, sr. safety manager, Austin Bridge & Road, L.P., Dallas, Texas
Alfred Garcia, project safety mgr., Zachry Construction Corp., Port Lavaca, Texas
Michael Grisko, instructor, LIUNA Laborers Local 172 S.E.T, Folsom, New Jersey
Randy Henson, division safety mgr., Zachry Construction Corp., Grand Prairie, Texas
Chris Iungerich, safety manager, Austin Bridge & Road, L.P., San Antonio, Texas
Gunnar Johnson, field engineer, Zachry Construction Corporation, Houston, Texas
Elisha Johnson, field manager, Allan Myers, Richmond, Virginia
Peter Kaplan, project safety manager, Wagman, Baltimore, Maryland
Matthew Koss, HSE manager, Allan Myers, Batlimore, Maryland
Don Lindert Jr., safety manager, Austin Commercial, Ovilla, Texas
Gregory Linenfelser, HSE professional, Transurban, Tysons Corner, Virginia
Eliu Martinez, safety manager, Austin Commercial, Dallas, Texas
Joel McGlothlin, regional safety manager, Austin Commercial, Mansfield, Texas
James Milner, project mgr., Superior Construction Co. Southeast, LLC, Jacksonville, Florida
Robert Montel, safety manager, Rieth-Riley Construction Co., Inc., Goshen, Indiana
Mauricio Montoya, HSE specialist, Allan Myers, Richmond, Virginia
Anthony Nanfro, superintendent, Zachry Construction Corporation, Magnolia, Texas
William Pedigo, safety director, Austin Bridge & Road, L.P., Irving, Texas
Ron Phillips, sr. safety supervisor, Lane Construction, Fredericksburg, Virginia
Joseph Polansky, director of HSE, Fred Smith Construction, Raleigh, North Carolina
Stephanie Powers, area safety manager, Lane Construction, Falls Church, Virginia
Darrell Pruitt, regional safety director, Superior Construction Co., Montezuma, Indiana
David Putnam, HSE manager, Allan Myers, Havre de Grace, Md.
David Roberson, building div. safety mgr., Zachry Construction Corp., Seguin, Texas
Jacob Selby, field engineer, Zachry Construction Corp., North Richland Hills, Texas
Jeffrey Sienkiewicz, project manager, Zachry Construction Corp., Flower Mound, Texas
Sean Simpson, HSE specialist, Allan Myers, Baltimore, Maryland
Randy Spurlock, safety manager, Allan Myers, Bel Air, Maryland
Terry Stephens, area safety manager, Austin Bridge & Road, L.P., Irving, Texas
Donald Stephens, safety manager, Zachry Construction Corp., San Antonio, Texas
Bryan Stone, safety director, Superior Construction Company, Jacksonville, Florida
Michelle Teets, mid-Atlantic regional safety manager, Lane Construction, Norfolk, Virginia
Nathan Terry, structures superintendent, Zachry Construction Corp., Porter, Texas
Cheyenne Urban, safety representative, Austin Bridge & Road, L.P., Frisco, Texas
Joseph Warren, HSE specialist, Allan Myers, Virginia Beach, Virginia
Steven Yeckel, HSE manager, Allan Myers, Stafford, Virginia
Derek Yeckel, HSE specialist, Allan Myers, Fredericksburg, Virginia